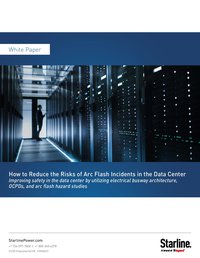 Arc Flash incidents are known across the industry as one of the most dangerous on-the-job hazards in data centers and can trigger explosions that harm or even kill employees, as well as seriously damaging the facility.
As a result of this known risk, failure to effectively provide employees with safety knowledge, appropriate equipment, and effective risk assessment can leave your data center open to legal action.
This whitepaper covers ways you can help ensure safety in your data center, including the design of your center, use of OCPDs, performing risk assessment studies, and PPE.