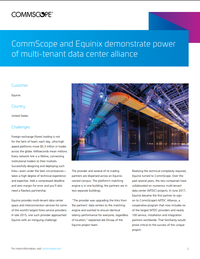 Foreign exchange (forex) trading is not for the faint of heart; each day, ultra-high speed platforms move $5.3 trillion in trades across the globe. Milliseconds mean millions. Every network link is a lifeline, connecting institutional traders to their markets. Successfully designing and deploying such links—even under the best circumstances— takes a high degree of technical experience and expertise. Add a compressed deadline and zero margin for error and you'll also need a flawless partnership.
Equinix provides multi-tenant data center space and interconnection services for some of the world's largest forex service providers. In late 2015, one such provider approached Equinix with an intriguing challenge. CommScope and Equinix demonstrate power of multi-tenant data center alliance The provider and several of its trading partners are dispersed across an Equinixowned campus. The platform's matching engine is in one building; the partners are in two separate buildings.
"The provider was upgrading the links from the partners' data centers to the matching engine and wanted to ensure identical latency performance for everyone, regardless of location," explained Jeb Dinsay of the Equinix project team. Realizing the technical complexity required, Equinix turned to CommScope.
Over the past several years, the two companies have collaborated on numerous multi-tenant data center (MTDC) projects. In June 2017, Equinix became the first partner to sign on to CommScope's MTDC Alliance, a cooperative program that now includes six of the largest MTDC providers and nearly 100 service, installation and integration partners worldwide. That familiarity would prove critical to the success of this unique project.
Download this case study to find out the results