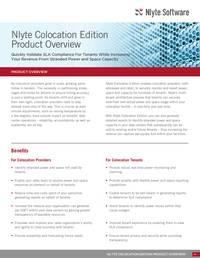 As colocation providers grow in scale, growing pains follow in tandem. The necessity in partitioning zones, cages and suites for tenants to ensure billing accuracy is just a starting point. As tenants shift and grow in their own right, colocation providers need to stay abreast every step of the way. This is crucial as even minute adjustments, such as raising temperature by a few degrees, have outsize impact on tenants' data center operations - reliability, accountability, as well as scalability, are all key.
Nlyte Colocation Edition enables colocation providers, both wholesale and retail, to securely monitor and report power, space and capacity for hundreds of tenants. Nlyte's multitenant architecture ensures that tenants can securely view their own actual power and space usage within your colocation facility – in real-time and over time.
With Nlyte Colocation Edition, you can also generate detailed reports to identify stranded power and space capacity in your data centers that subsequently can be sold to existing and/or future tenants – thus increasing the revenue you capture per square foot within your facilities.