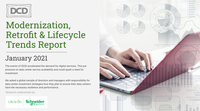 To support the industry in making more informed decisions, we asked a global sample of directors and managers with responsibility for data center investment strategies how they plan to ensure their data centers have the necessary resilience and performance.
The events of 2020 hugely accelerated the demand for digital services. This put pressure on data center service availability and made clear the areas that need investment when it comes to modernization, retrofit and lifecycle management. 
Questions analysed include how frequently existing data center's are retrofitted, key drivers in upgrades, the decision making process, investment proportions, planning time frames and much more.