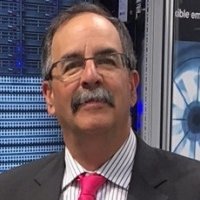 Herb Villa
Sr. IT Solutions Engineer
,
​Rittal North America, LLC
Herb is Senior IT Solutions Engineer with Rittal, the global leader in modular enclosure solutions.  With a background in mechanical engineering, Herb has more than 20 years of experience in the IT market, having been involved in all aspects of data center and system design, installation and operations.  Herb has also benefited from multiple vantage points – data center operator, manufacturer, systems integrator and corporate trainer.  This experience has been used to provide training to end users and engineers & consultants in a variety of forums including conferences, on-site and on-line.  Herb has put this knowledge to work for a variety of clients including Fortune 500, financial services, education, government and content and entertainment organizations.
Active member of ASHRAE TC9.9, The Green Grid and has also participated in other industry organizations and consortiums.
Certified CDCDP (Data Center Design professional)