Huawei has taken the lead in completing the industry's first WiFi 7 AP performance test by the independent Tolly lab.
According to the test results, Huawei's WiFi 7 AP provides over 13 Gbps real-world performance and 4.33 Gbps throughput for a single WiFi 7 endpoint. Indeed, these blazing-fast speeds are unparalleled, going beyond anything recorded in previous Wi-Fi performance tests.
Excerpts from Tolly's test report:
The 6 GHz radio of each Huawei WiFi 7 AP (AirEngine 8771-X1T) can provide up to 4.33 Gbps throughput for a single WiFi 7 endpoint, which is the best single-user performance that Tolly has tested so far.
Each Huawei WiFi 7 AP (AirEngine 8771-X1T) provides up to 13.25 Gbps wireless network throughput, which is the highest AP throughput that Tolly has tested so far.
WiFi 7, the seventh generation of WiFi standards, is also known as IEEE 802.11be, the newly revised standard soon to be released.
WiFi 7 comes with all the benefits of WiFi 6/6E, including 2.4 GHz and 5 GHz of WiFi 6 together with the 6 GHz spectrum of WiFi 6E.
More importantly, WiFi 7 stands out with all-round technology upgrades, including 320 MHz bandwidth, 4096-QAM modulation, and multi-link operation (MLO).
With these traits, WiFi 7 redefines wireless network experience by further improving spatial resource utilization and increasing the theoretical rate of a single radio to an astonishing 23 Gbps, 2.4 times that of WiFi 6.

Huawei is an active participant in the formulation of WiFi standards, and also a longstanding contributor to the progression of the entire WiFi industry. Dr. Osama Aboul-Magd, a leading expert at Huawei, serves as the Chair of the 802.11ax (WiFi 6) standard working group, and another Huawei leading expert Dr. Edward Au is the technical editor of the 802.11be (WiFi 7) standard working group.
Over the years, Huawei has invested huge manpower and material resources into WiFi standardization. According to an authoritative third-party report released in 2021, Huawei ranked number one in terms of contributions to WiFi 7 standardization, as well as overall contributions to standardization from WiFi 4 to WiFi 7.
Alongside such years of dedication to WiFi standardization, Huawei has accumulated an abundance of innovative technologies and patents. Indeed, Huawei has always been at the forefront of WiFi standards, culminating in Huawei's launch of the world's first enterprise-class WiFi 7 AP.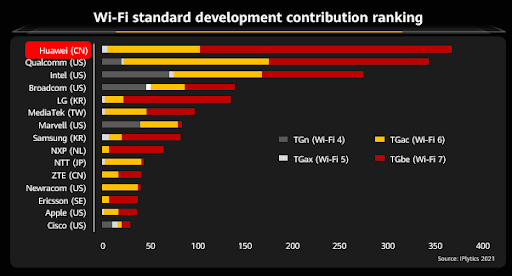 Huawei's enterprise-class WiFi 7 AP – AirEngine 8771-X1T – stands out with dynamic-zoom smart antennas and 12 built-in spatial streams. And with an air interface rate of up to 18.67 Gbps, this sophisticated AP allows users to enjoy fiber-like wireless experience.
In Tolly's test, AirEngine 8771-X1T sets a new record for WiFi performance: peak throughput of 4.33 Gbps for a single endpoint, ultra-low two ms latency, and overall wireless performance as high as 13.25 Gbps.

Huawei AirEngine 8771-X1T WiFi 7 AP is bound to bring fresh-new network experience to enterprises of all sizes and meet their urgent need to efficiently digitalize services.
Particularly, Huawei's WiFi 7 AP offers a smoother and more reliable wireless network in high-density, high-bandwidth, and low-latency use cases, such as metaverse, Augmented Reality/Virtual Reality (AR/VR) education, manufacturing Automated Optical Inspection (AOI), industrial control, telemedicine, and warehousing. This injects new vitality into the wireless and intelligent transformation of diverse industries and unlocks more new applications.
To learn more about WiFi 7, click here.
More from Huawei
Creating and fostering partnerships in Europe, for Europe

Will modernize its existing infrastructure

A successful use case for Indonesian telecoms company Matrix NAP Info