When cloud computing first came around, everyone wanted a piece of it. Amazon Web Services (AWS) was a new, easy, purportedly cheaper way to get more compute and storage – you didn't even have to be an IT guy to figure it out. Ten years later, cloud still has a reputation for being simple and cheap. Now, though, savvy users know that cloud comes with its own set of challenges—like shadow IT undermining trust within organizations; and that the price advertised doesn't always capture the total cost when it comes to cloud, among numerous other concerns.
Now, instead of moving to the cloud as a quick fix, enterprise IT teams have time to think about what a cloud model really means – self provisioning, elastic growth, and a service-driven operating model to support it. The cloud makes it easy to scale incrementally, to align investments with demand. A new application request comes in, and you spin up a new "cloud" instance. Seasonal demands start taxing in-house servers, so you add a rack's worth of VMs in the cloud. Cloud also changed the old mentality of long purchase and deployment cycles, where adding storage took months. This approach of computing hardly required more than a credit card to get started and then add capacity.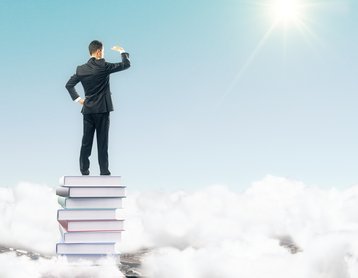 What's great about the cloud is this speed and agility. For many new companies, especially, this approach has worked wonders. Now, there are ways to get those cloud benefits without giving up control of workloads or incurring an unpredictable monthly cloud bill. What if your company isn't one "born on the web," with acres of greenfield opportunity? Most enterprises aren't. They're the ones looking for cloud capabilities and cloud benefits, without scrapping in-house investments.
Keep cloud in-house
A cloud-like infrastructure is possible now in a way it wasn't a decade ago. Hardware and software advances, along with new technologies, mean that IT teams can bring cloud characteristics to the business. These cloud capabilities and services include scalability, self-service functionality, clear cost breakdowns, and meeting changing resource demands quickly. A cloud-like infrastructure today should also have a comparative per-VM price to public cloud. These requirements are met with a technology like hyperconvergence, designed in the post-cloud era for agility.
Now that cloud computing is firmly part of the IT landscape, it's easy to see that the benefits it brings will be essential for modern IT teams. However as businesses do it, they should move away from the old, siloed, rigid architectures that marked the pre-cloud data center. Cloud computing reflects a real rethinking of the foundations of IT infrastructure, and building cloud-like data centers captures that new mindset.
If IT is to move continually forward by adding business value, it needs a flexible infrastructure and a cloud-like operating model that's able to meet the needs of companies. Businesses need efficient IT departments that can scale out and in quickly without overspending. Today's cloud-like infrastructure is based on premises, but offers scalability and flexibility. It frees IT from old constructs like siloes and massive, inflexible systems.
Rich Kucharski is vice president of solutions architecture at SimpliVity
If you are interested in learning more watch our free webinar on hyperconvergence.
We also have a number of learning materials for data center managers available here.