With the nights drawing in and Halloween lurking right around the corner, it's the perfect time for IT professionals to reflect on the ghouls in their IT environments that are causing them sleepless nights.
From the malicious malware going bump in the night, to the unsecured devices creeping through the cracks, the IT environment has never been a more frightening place for an IT professional.
1. There's something in the house…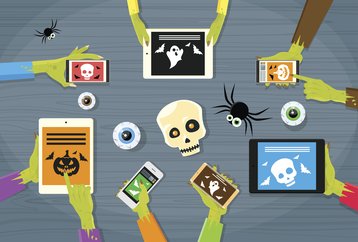 Anyone with a passing knowledge of horror films will be familiar with the old "the (phone) call is coming from within the house" scene. Playing on our presumed safety within the confines of our home, this scene may be overused, but for IT professionals, it can ring horrifyingly true.
Arguably the most nightmarish occurrence for an IT professional is a data breach – a violation of an organisations' most sacred resource. What makes a breach even more frightening however is that the real threat may be coming….from inside the house!
That's right – a significant number of data breaches are a result of insider threats, with vulnerabilities often a result of employee' carelessness. Whether it's bringing an unsecured USB device into the office, or opening an untrustworthy email, employees are often left in the dark with regards to how they can pose a threat to their own organisations.
For IT professionals, the idea of an insider threat leading to a damaging data breach is enough to turn their hair white, and so it's important to ensure that everyone in an organisation is well-aware of just how damaging their actions could be.
Last year, SolarWinds' UK IT security survey found that inadequate end-user training was one of the top three factors for organisations becoming increasingly vulnerable to cyberattacks. By educating a workforce, a nightmare can be averted.
2. They are legion
Why are zombies frightening? Sure, they eat brains, but they're also clumsy and slow-witted. So what is it about them that's so scary? The answer could be two-fold: their number, and their relentlessness.
Zombies just keep on coming. They multiply, grow stronger and eventually find your weak spot. In that sense, IT professionals are facing their own zombie horde, only one with greater wit and resource. In recent years, cyberattackers have grown in number, ingenuity and rapaciousness. They want an organisation's brains (well, data) and will stop at nothing to get them.
So, how can IT professionals equip themselves to do battle against this seemingly undefeatable foe? One tip is to join forces. Lone wolves rarely live long in zombie horror films so IT professionals who seek help from others, and collaborate through online communities, will likely fend off the horde more successfully.
Whether it's offering tips on the latest patches, or sharing best practice survival stories, IT professionals should learn that there is safety in numbers.
3. Are you afraid of the dark?
There's a reason that so many horror films rely on shadowy darkness to illicit terror. Fear of the unknown is an effective tool in giving somebody goose bumps and, unfortunately, is a type of horror well known by many IT professionals.
No IT professional can rest easy so long as their IT environment is shrouded in darkness. After all, what horrors could be lurking in the shadows? From antiquated software and outdated patches, to unsecured devices, IT professionals need to shine a light on the darkest recesses of their infrastructure. Without this insight, efficiency can be compromised and security risks can arise.
But how does an IT professional ensure this visibility, especially with hybrid IT, and the distribution of services across cloud and on-premises, plunging more of an environment into opacity? The answer is monitoring. By deploying a comprehensive monitoring toolset that offers single-pane-of-glass visibility across the entire environment – both on- and off-premises – IT professionals can illuminate the darkness and ensure a peaceful night's sleep.
Today's IT environment can seem like a scary place, but with the right tools and a thorough understanding of the challenges you face; IT professionals can face their fears and come out on top.
Destiny Bertucci is Head Geek at SolarWinds