With 2017 closed, it's time for IT pros and data center managers to look towards the New Year and the changes each passing year naturally brings. Whether it be the shift in on-premises to cloud environments to the growing need for regular 'health' checks to keep systems running smoothly within the data center, it's important to use each New Year as an opportunity to rethink strategy and create a clear plan for success.
Considering the challenges data center managers faced in 2017, including the fact that less than 30 percent of enterprises are currently disaster ready (Disaster Recovery Preparedness Council) or the harsh reality that cybersecurity costs are expected to rise to $6 trillion annually by 2021 (Cybersecurity Ventures), it can be difficult to grasp what immediate and actionable steps IT teams and data center managers need to take. Instead of becoming overwhelmed by the "what if's" the New Year will inevitably present, why not take a look into the Data Center Crystal Ball to glean the important insights your team will need to start off strong?
Based on what the last year has presented, here are three data center trends we can expect to see heading into 2018:
Taking a proactive stance on disaster recovery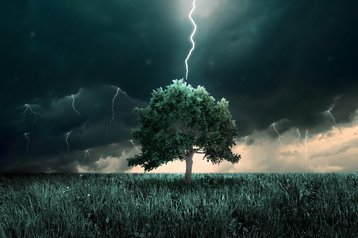 With an unprecedented level of natural disasters experienced in 2017, data center managers across the globe are being forced to evaluate current disaster recovery plans – where cloud infrastructure solutions take a front seat – moving disaster recovery strategy to the top of the agenda in 2018. In the event of power failure, for example, using a power capping policy via clouds tools would allow for continued operation at lower power budget knowing that a power policy provides some assurance of a maximum power draw.
Having a backup plan in place would extend operation of running servers versus the undesirable results from having to shut down and restart servers. What's more, leaning on cloud solutions for disaster recovery could double check on failure of infrastructure cooling through monitoring server temperatures. With so many benefits of maintaining an up-to-date disaster recovery plan in the place, no enterprise can afford to overlook this strategy in in the New Year. And while unable to predict what 2018 will bring in terms of natural disasters, one thing is certain, data center manager's will optimize plans to expect the unexpected.
A health check a day keeps the downtime away
Whether or not you'd like to admit it, the age-old saying is fairly true, maintaining your health through "an apple a day" style approach likely does keep the doctor away. And machines are no different. They too require ongoing monitoring and health checks to ensure quality control within the entire facility. In an effort to proactively mitigate issues before they become company-wide disasters, having a data center health management strategy in place is imperative for every enterprise.
Unfortunately, only one-third of businesses have a health management strategy in place, and did so only once their backs were up against the wall, being forced into implementation following an outage, witnessing an outage elsewhere or being pressured by the C-suite to do so. In 2018, the scale will tip, it has to, as orgs can no longer afford a reactive approach, with the average outage costing even the most sophisticated organizations upwards of three-quarters of a million dollars.
Cloud vs colo vs on-premise:
big decisions for IT decision makers in 2018
The data center market is heating up with no signs of slowing down. According to 451 Research, cloud is currently in the lead as the fastest growing segment of the data center industry, on track for global operational square footage hosting infrastructure to increase 16 percent (CAGR) by 2020. The colocation and wholesale sector is expected to see a 7 percent CAGR, showing a serious shift in where data center managers are deciding to host their equipment rather than managing data centers themselves. As we head into 2018, we can expect these transitions and conversations to continue to mount as data center managers continue to see the both the benefits and challenges associated with outsourcing their data center environments.
In addition to prioritizing disaster recovery proactivity, routine health checks and meeting all expectations of the rapidly changing industry, what will your 2018 strategy hold?
Jeff Klaus is general manager of Data Center Management Solutions at Intel