The rapid expansion of the digital world is impacting business and the computer systems supporting enterprises of all sizes. As a result these systems, including software, networks, and data centers, are operating on overload to keep up with demand and consuming incredible amounts of energy in the process. 
To ensure your systems, specifically your data centers, are able to keep pace with innovation it is important to think long-term and make sustainability an important tenet of your business. The creation of a sustainable data center using renewable energy and optimized for energy efficiency makes both environmental and business sense.  
To start your sustainable data center strategy, ask your data center provider how they operate their platform and about the other practices they employ to make sure resources are used efficiently and are able to accommodate future growth.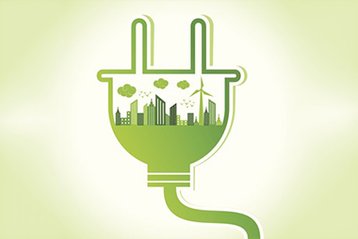 1. How do you operate your data center platform? 
The data center platform is at the core of any viable sustainability strategy. How it is designed, constructed and operated will impact your systems and your business. Some data centers use modular technology as opposed to raised floor as this approach can be more efficient in design and operation; others look for ways to minimize CO2 emissions at their site and throughout their business. If your provider is really on top of its game, they look to get energy from renewable sources. 
A sustainable data center provider must operate efficiently as a majority of its costs are on energy. This energy requires carbon emissions at the power plant and is therefore the source of the largest environmental impact for those in the data center industry. Improving energy efficiency reduces one of the largest costs and one of the largest sources of emissions simultaneously. For your data center provider, that means using less – less energy and less water. 
2. Do you look to reduce data center waste?
From cables and sensors to IT hardware and cooling units that need to be refreshed regularly, it takes a large number of components to run a data center. In order to address data center sustainability, it's important to minimize the amount of toxin-laden electronics that end up in landfills. Addressing this issue requires a joint effort by data center providers and their customers, as well as an understanding of the daily inflow of materials and outbound flow of goods and services.  A sustainable data center also looks to reduce the use of these materials as much as possible. 
3. How do you manage your multi-site footprint?
In order to ensure your data center is sustainable, it is important to inquire about your data center provider's multi-site footprint and its ability to enable distributed network availability and dynamic load placement. Working to identify workloads that can be transferred from peak demand periods to off-peak hours ultimately results in lower costs for all parties: data center users, the data center, and utilities. 
Improving energy efficiency reduces one of the largest costs and one of the largest sources of emissions simultaneously.
In addition to your provider's footprint, ask  if they assess a variety of sustainability-focused metrics within the data center, such as energy mix, water scarcity and availability of public transit. This will ensure that you are able to operate sustainably no matter where you use data center services. Additionally, whenever possible and sensible within the context of business requirements, your data center provider should pursue regional environmental certification standards. 
4. Do you use data center operating system software?
Tracking key metrics associated with asset, capacity, and workflow management can optimize the entire performance of your data center and make it more sustainable. To do this, your provider should use data center operating system software as this tool enables visibility into and control of energy consumption and capacity. By using such software, organizations are able to achieve greater efficiency and thus energy cost savings.  

The data being collected by the software can be used to improve engineering and operational processes, extend system longevity, enhance security, lower data center energy and maintenance costs, and guide best practices for availability and resiliency. By making the data available to you through software, a data center provider can help your organization identify areas to improve system inefficiencies and open the doors to continuous improvement.
5. Is continuous innovation a priority within your organization?
Data center providers with a vested interest in sustainability have a mantra: reduce, reuse and recycle. And that means everything from energy to materials. Efficiency is a key component in their current and future designs of power distribution, energy recovery, IT and environmental networks.
Going a step further, sustainable data center providers will also encourage their vendor partners, employees, and customers to operate to the same standards of performance. They should partner with like-minded companies and customers to co-develop sustainable solutions and meet mutual goals. Your data center provider should share its innovation and progress, and always strive to keep up-to-date on the latest technologies, as they become available in the future. 
The data center industry uses large and increasing amounts of land, energy, water, and raw materials, and is creating a growing amount of waste in the process. However, there are ways to use less while making your data center sustainable and thus more competitive in the long term.
To jump start your sustainable data center strategy, your data center provider above all must operate with the mindset that renewably powered data centers are achievable. Data centers can also support their sustainability strategies by taking their waste and diverting them to a more sustainable route, this initiative is referred to as a zero waste data center.
Rick Crutchley is chief operating officer at IO