With each new year comes a new list of the world's most successful companies. Many are instantly recognizable, from smartphone giants like Apple to software stalwarts like Microsoft. These companies understand the power of cloud computing technology in digitally transforming and reimagining their businesses.
According to Boston Consulting Group's list of the most innovative companies, 79 percent of strong innovators reported they'd already digitized their innovation processes. Increasingly new, born-in-the-cloud entrants are seemingly sprung up from nowhere and added to the ranks of these globally successful companies. Ride-hailing app Uber was founded in 2009, but now has operations in 633 cities worldwide. Airbnb was founded in 2008, and now has a presence in 290 markets.
Turning traditional business models on their head, these successful companies are harnessing the Internet to serve today's consumer in the way they want. Yet these companies have a direct, less obvious advantage: they are unencumbered by legacy technology, and do not need to care about transformation.
The reality is, many companies are working with "brownfield" scenarios with an expectation to undertake huge digital transformation projects to remain competitive. IT must now support the digitization of decade-old processes, while continuing to extract value from existing legacy systems that remain important to ongoing operations.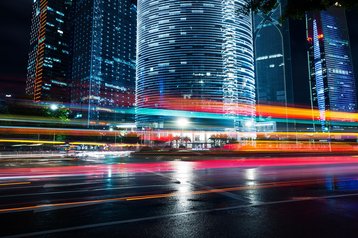 Clinging on for comfort
Networking is a particularly tricky facet of IT to navigate. Many enterprises are still held back by complex infrastructure consisting of routers, WAN path controllers, WAN optimizers, firewalls, and other components at their branch offices. Historically, it's been expensive to buy and complex to manage, and as such is often viewed by IT as a cost center, but no organization can exist without a network. Now, the emergence of software-defined (SD) WAN holds new promise for the role of networking technology, enabling agility and cost-efficiency.
But the upgrade from traditional WAN to SD-WAN can be a tricky decision. As part of a bespoke legacy system, IT pros cling onto WAN for comfort; with a set of entrenched tools and integrations they've relied on to monitor and manage performance for years. Never change a running system? The truth is, running on a limited and expensive bandwidth, WAN is data center-dependent and has unpredictable application performance and a complex infrastructure. So why, when faced with these historical experiences, do organisations not consider other options?
A new era of flexibility
When SD-WAN first came into play, it was shrouded in hype, but many IT pros were skeptical that the technology could deliver against bold claims to mitigate previous WAN security issues while introducing automation, cost efficiency, visibility, and proactivity. But with the SD-WAN infrastructure market poised to reach $4.5 billion in 2022, according to IDC, the consensus has shifted. IT pros are fast waking up to the realization that SD-WAN unlocks a new era of flexibility, which means their organisations can operate with the speed and agility of their cloud-first competitors.
Thriving organizations are "always on," meaning they're moving swiftly to dial connectivity up and down as needed to cope with peaks in activity, while also efficiently provisioning services. The layer of software automation afforded by SD-WAN is an accelerator for global growth - organizations can roll out new products and services, quickly expand into new markets, and trial new revenue streams. But, to do so, it's essential that IT has a clear view across services and can see the pathways of applications as well as the quality of service.
The question of automation
For many IT pros, the ever-increasing introduction of automation is still perceived as a threat to job safety and security, but this needs to change. Automation enables IT pros to allocate more time and resources to wider IT issues where human input is vital, such as researching new technologies. The right monitoring tools and processes mean optimal performance is maintained but also any potential risks will be identified long before they manifest, paving the way for an IT system that's more self-sufficient.
SD-WAN offers the ability to dynamically share network bandwidth across connection points to ensure connectivity is reserved for the activities posing the greatest demand. For example, Black Friday represents a "peak" period for retailers where the demand requires more bandwidth. SD-WAN enables the organization of the network to work at full capacity during the weekdays and at a reduced level overnight and at weekends to reduce the "expensive pull" on the network to work 24/7. This optimization ensures a cost-efficient process and funnels the right resources to the correct department, at the necessary time.
SD-WAN holds the keys to the kingdom. Companies stand a chance in the fight for market share if they free themselves from the shackles of a slower, more clunky, less efficient system. Adopting SD-WAN is a step in the right direction and is necessary for organizations looking to bolster their digital transformation efforts and stretch their ambitions to a global level. SD-WAN can unlock the flexibility needed to help organizations use their networks to transform their processes, boost productivity, and be more cost-efficient.