On one of the busiest travel days of the year, thousands of travelers were left waiting in line. A failure of the United States Customs and Border Protection systems resulted in inbound international passengers standing in customs lines for up to two hours in some cases. During the time the problem was being identified and the systems were being brought back online, the staff at airports across the U.S. were forced to process travelers using alternative measures.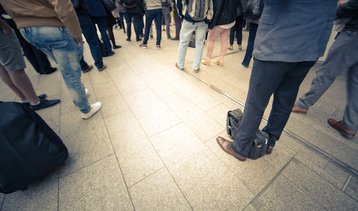 Things to come?
Occurring on January 2nd, this latest example of system failure could be a sign of things to come for IT in the new year. After all, nearly every system we use, whether consumer or business systems, is dependent on IT infrastructure. 2016 had its fair share of major IT outages in all industries resulting in lost revenues and damaged reputations for some world-wide brands and it could be a sign of the growing reliance on IT systems. With a high-profile instance happening so early in the year, businesses will be taking extra precautions to prevent downtime and putting in place strong contingency plans should systems temporarily shut down.
The first step to avoiding the damage of IT downtime is to actually have a plan in place. Too many organizations still undervalue disaster recovery. Many view it as "optional." Based on the events of 2016 and the early indications of 2017, businesses have to realize that data protection and disaster recovery plans are absolutely necessary. There is a gap between what the business expects and what many IT organizations are currently able to deliver. The business needs to prioritize and invest in the right infrastructure to allow IT to deliver on the service level agreement (SLA).
The first step to avoiding the damage of IT downtime is to actually have a plan in place.
Part of the problem with many backup and recovery strategies in their current form is that they are too complicated. A recovery solution is only useful if an IT professional can reliably and predictably use it in a disaster scenario. Complexity can lead to confusion, miscommunication, and user error. Because of this, automation of backup and recovery operations will be a major trend in 2017. Automated solutions enable IT pros to quickly and easily backup critical workloads and applications by pre-defining what should be backed up in the case of an emergency. This emphasis on simplification and efficiency will likely lead more businesses to outsource backup and disaster recovery operations to service providers, particularly at the small- and medium-sized enterprise level as many of these size companies have limited budget and staff to complete data protection tasks.
Wake up call
2015 was a wake-up call alerting companies to update and improve security. 2016 was defined by major examples of what can happen when data protection and disaster recovery isn't taken seriously. It's unclear what the dominant narrative of 2017 will be, but one thing remains clear after the early incident with the US Customs and Border Processing – IT teams will be under intense pressure to prove their data protection and disaster recovery plans are top-notch.
Jesse St. Laurent is vice president of product strategy at SimpliVity