If a city in Europe could epitomize the insatiable appetite for sovereign cloud services and the use of colocation to provide this in Europe in 2017, it would have to be Paris. The colocation market is more insular than some other markets – providers come to Paris largely to serve French nationals. And now it appears they are ramping up their efforts, creating a new market dynamic that is driving growth across the colocation footprint.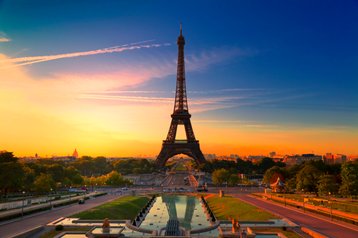 Voici les hyperscalers!
All major data center markets in Europe are interesting in one way or another at the moment: London has questions over Brexit, Frankfurt has seen growth on the back of national attitudes to data protection, Amsterdam has an attractive business environment and connectivity to the US. But this new dynamic makes Paris a fitting first subject for 451 Research's European multi-tenant data center (MTDC) reports, to be followed by London, Paris, Frankfurt and Amsterdam.
In the past, Paris has been rather quiet. The city has seen steady - if not slow - market growth for a number of years. That was until 2016, a year during which Paris drew the attention of hyperscale cloud providers, many of whom decided it was time to provide French businesses with a local presence on the back of growing demand.
As a result, the start of 2017 has seen providers in the market speak of a welcomed vigor, a fresh frenzy of activity that is sparking the fire for build projects and the next round of maturity in terms of colocation take up across the market.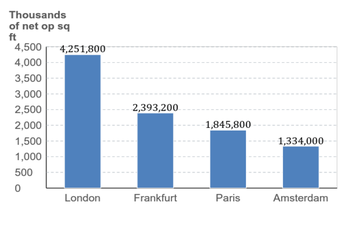 Paris – the figures
Paris is the third-largest colocation market in Europe - behind London and Frankfurt and ahead of Amsterdam – despite Amsterdam having a significant amount of large-capacity buildings (where not all space is yet online).
451 Research tracks 55 active data centers and 25 providers in the market today that provide close to 1.85 million square feet (172,000 sq m) of operational data center space, totalling 295MW in power terms. In 2016, the market added close to 100,000 square feet of supply and this year, with large cloud providers driving solid growth, we expect to see close to 140,000 square feet of technical space (13,000 sq m) come to market.
The last time we saw such high numbers was in 2011 and 2012, when around 180,000 square feet (17,000 sq m) hit the market with the entry of major providers such as Equinix and the expansion of Interxion. Back then, the market was concerned that too much space had come online, and as a result of excess supply, prices became depressed. But things are looking quite different in 2017, with the scenario being one of supply that is meeting new demand – and in a large number of cases new supply coming online is already spoken for.
The largest providers in the market – a list that includes Interxion, Global Switch, Equinix, Iliad Data Centres and Data4, have all signed sizable cloud deals in the last year and are pushing forward with expansion plans as a result and we expect this will continue well into the next year.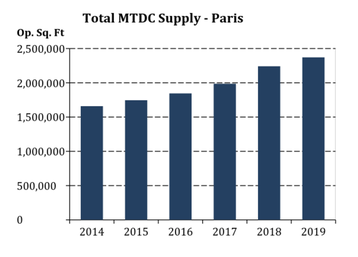 The new wave
Paris missed out on much of the original European hyperscale demand that entered cities such as London and Frankfurt – and even Dublin and Amsterdam. Providers either viewed Paris as being too expensive and challenging to establish business operations in, or chose locations such as Frankfurt and London for access to a large pool of cloud consumers or Amsterdam and Frankfurt for access to connectivity options both in and outside of the country.
Ease of doing business as well as a perceived need to meet concerns from incoming European data regulations and appease customers with sovereign requirements also drove the order of European growth.
The complexity of French business law has in the past been seen as a hindrance to providers, as is Paris's more internally facing connectivity scenario (the market largely serves French businesses and consumers). The country has also faced some political and economic uncertainty. But now the cloud providers are coming, saying they see increasing demand for services as local customers that are increasingly moving to hybrid cloud call for services to be delivered from France.
Salesforce entered the market a number of years back, and now other providers are seeking a presence – in large part to address local concerns over data residency. Google has entered the market, AWS is launching a new availability zone in Paris in April this year (AWS typically builds out in three facilities and works with colocation providers) and Microsoft is also bringing Azure services to Paris this half of the year.
Some expect Asian cloud providers and telcos will also seek to enter the Paris market, mimicking a trend seen in Frankfurt and Amsterdam in recent years. And Middle Eastern telcos are also starting to tap into Paris through Marseille to gain access to services. Many will use a colocation footprint to overcome some of the struggles with doing business in France – most will use more than one facility, and more than one provider.
The lure of the cloud
Both retail and wholesale operators say they have seen more RFPs from large hyperscale providers. The pull of the cloud provider has led many colocation operators in Paris to lower pricing in recent times to attract major cloud deals, and has also led to the blurring of the lines between wholesale and retail colocation. Retail colocation providers are now selling 1MW to 2MW halls for hyperscale providers that in time will attract enterprise clientele. Enterprise deals are mostly remaining at the rack or cage level, but they are bringing in higher margins through pricing and additional connectivity costs via cross-connects and other services, despite the length of contract time falling. We also see wholesale providers competing for these smaller deals.
The pull of the cloud provider has led many colocation operators in Paris to lower pricing in recent times to attract major cloud deals, and has also led to the blurring of the lines between wholesale and retail colocation
Cloud attracts more than just enterprise customers. Managed service providers and systems integrators are also using an increased colocation presence to on-sell cloud services as more French businesses start on their cloud journey, with additional consulting and management capabilities offered. Many of these deals – similar to those from cloud providers – are longer-term in nature and require reserved space and the ability to scale.
Many providers in Paris expect that a new wave of IoT and e-payment service demand will over time add to the connectivity-focused deals being done across the market. Providers also believe there could be post-Brexit gains, which could lead to increased activity from financial services institutions and other companies that need to do business in the city (or seek a presence in Europe). French government departments and agencies are also increasingly turning to colocation as an on-ramp to cloud services.
Overall, 451 Research has valued the Paris multi-tenant data center market at an estimated $433m in revenue in 2016, and we estimate it will see around 6 percent growth through 2017, taking it to approximately $460m. Providers across the metro market – the tenth largest in the world in terms of operational supply - will welcome this first wave of growth from the cloud, which puts the market in a good position to see further growth in the years ahead.
Penny Jones is principal analyst for MTDC (multi-tenant data centers) and managed services at 451 Research.
The full Paris: Multi-Tenant data center report, including detailed information on supply and demand, market leaders and a market map showing providers and services offered, is available here from 451 Research