At DCD we are used to hearing how everything is moving to the cloud.
All the data center builders we talk to, it seems, are hyper-excited about hyperscale. They want to serve the insatiable hyper-demand of hyperscale cloud operators for ever more capacity. Operators who want to serve enterprises in colocation space, sound measured in comparison - but surely they are missing a trick? And people building old-fashioned on-premises data centers for businesses? We scarcely encounter them.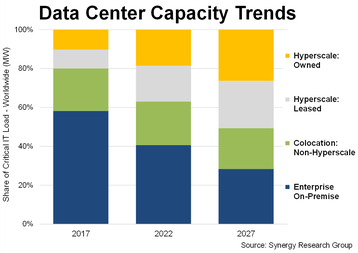 But we might be missing something. According to the latest research, on-premises data centers are not going away - yet.
Steady as she goes
"The total capacity of on-prem data centers is expected to remain reasonably steady over the next five years," John Dinsdale, chief analyst & research director at Synergy Research Group tells us. Synergy actually predicts a decline of a fraction of one percent each year.
Set that against growth elsewhere, and things look different. Hyperscale data center capacity is expected to grow strongly year by year, and is holding a lot of new enterprise applications, via cloud providers. Meanwhile, a lot of enterprises are continuing to move their IT hardware into third-party colocation facilities, which are also growing.
Factor those things in, and consider the parts of the market as a percentage of an increasing total, and you get the chart above. That chart comes direct from Synergy, and a lot of the observations below are heavily based on Synergy's analysis.
In 2017, 60 percent of all data center capacity was in on-premises facilities. By 2027, that will have fallen to less than 30 percent, Synergy says.
Synergy reckons hyperscale providers are now operating around 900 large data centers around the world. These giant facilities together make up 37 percent of the world's data center capacity.
Around half of the hyperscalers' capacity is built and owned by the cloud giants themselves, while the other half is leased from operators like Stack, Equinix xScale, and many more.
The smaller "retail" colocation sites, where enterprises can find a home for their owned IT kit, now make up 23 percent of the world's data centers.
The on-premise facilities, owned and operated by the end users themselves, have fallen from a majority (60 percent) five years ago, to only 40 percent now. This comes despite many banks still refusing to trust a third party, and some people recently spotting the phenomenon of cloud repatriation, in which large organizations brought some capacity back from the cloud into their own (or colo) facilities, where they can better control costs.
That cloud repatriation effect may be what is counterbalancing the move to colocation and the cloud, and maintaining the total capacity of on-premise facilities. When JPMorgan announced in 2022 that it was doubling down on a $2 billion investment in in-house facilities, it wasn't entirely out of line, but even big moves are not denting cloud growth.
Five years from now the balance between on-premises and hyperscale will pretty much reverse, in terms of market share, from the situation five years ago. That is a very visual tipping point.
Hyperscale (including both owned and leased facilities) will go from around 20 percent of the market in 2017, to more than half in 2028. While on-prem, as we noted, falls from 60 percent to less than half.
Colocation really holds its own
Another interesting fact from the figures is that, despite the attractions of the cloud providers, retail colocation has actually been growing in step with the size of the entire market. While hyperscale and on-prem swap places, colocation sits in the middle, at around 20 percent of the total.
Synergy says enterprise spending is making the same shift.
Ten years ago, enterprises spent $80 billion per year on IT hardware and software in their on-prem facilities, and only $10 billion on cloud infrastructure services, which were only just getting started.
Now, enterprise cloud spending has grown by 42 percent every year, to reach $227 billion in 2022. At the same time, in-house data center investment in hardware and software has also gone up, but only by two percent per year. That works out at around $100 billion in 2022.
So as with capacity, the tables have turned in spending. Cloud has gone from 11 percent of enterprise budget to 70 percent, while in-house expenses have fallen from nearly 90 percent to just 30 percent. The amount of that expenditure which is in actual on-premises data centers has fallen still further of course, because a lot of that hardware is now in colocation spaces.
Of course, all this omits the huge factor consumer services have played in the growth of the cloud. Social networks, e-commerce, streaming media, and games have also exploded in this time.
Enterprises will still have on-premises data centers for a long time to come - and DCD will continue to want to hear about yours if you have one.
But they will increasingly look like the equivalent of stacks of DVDs. A perfectly functional way to do something, but not the way most of the world operates.