As the largest port city in France, Marseille is easy to picture as a transportation hub. For centuries, Marseille has enjoyed success in the transport of goods, linking Europe to the rest of the world; now, the city's geographic proximity to not only the Middle East and Africa, but also China, India and Southeast Asia is playing a strategic role in the transportation of the world's data.
Marseille has, for many years, been the landing point for submarine cables carrying data between continents all over the world. The city's unique geographical advantage provided cable consortiums with a transit hub for traffic between Europe and the Middle East, Africa and Asia. Besides being a conversion point for submarine traffic, the city also benefited from terrestrial links back to the FLAP (Frankfurt, London, Amsterdam and Paris), the traditional innovation centers of Europe.
Phocaean glory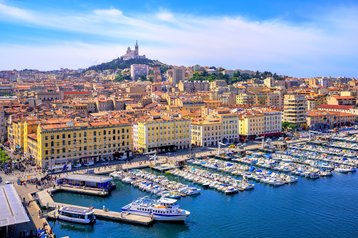 As if the data converging from three continents weren't enough, the staggering demand for content from these regions has created a perfect storm resulting in Marseille becoming the fastest growing market in Europe, in terms of international bandwidth shifting the city from a peering and transit hub to a content creation and distribution destination.
Over the past decade, the demand for digital content has exploded—especially in the emerging markets of the Middle East, Asia and Africa. In Africa, mobile video consumption doubled between 2015 and 2016. In the Middle East, 70% of people consume video through their phones at least once a week, and Asia is seeing strong demand for gaming and sports-related content.
Capitalizing on this opportunity has become a priority for many international organizations, which hope to find new revenue streams from the roughly 4.5 billion people spread across these regions. The underlying IT infrastructure investment needed to support the delivery of this content is of the utmost importance, and IT teams tasked with ensuring optimum performance for content delivery have found an ally in Marseille.
In a recent 451 Research survey of US-based IT decision makers, 32% of respondents identified access to Africa, Asia and the Middle East as a top driver in deciding where to place their IT infrastructure in Europe.
Those paying attention have noticed an influx of big cloud and content players to the city. To optimize performance for their end users, these players are creating, processing, and distributing content from Marseille, transforming the city from a transit hub to a content hub – and elevating its importance in the digital economy.
International businesses are following suit, realizing they don't need to place infrastructure in the Middle East, Asia and Africa to adequately serve these regions. Through Marseille, businesses can get low latency access to these emerging markets without encountering many of the financial or geopolitical risks associated with placing infrastructure there.
Because of this acceleration of different segments landing in the city, Marseille data centers have become production plants where companies of all kinds use each other to produce, deliver and release content. It's like a fabric of extended networks and services – which will make the location even more of a key hub in the coming years.
Need further proof that Marseille is a data hotspot? Just look at these statistics:
● In just the last four years, latency has been halved to many parts of the Middle East and Asia—meaning more content can be pushed out from Marseille, and services can be delivered to more users in more places than ever before.
● A total of 43 countries are directly connected to Marseille today, with three more cables expected to land there next year.
● By 2019, the city will be connected with more than 300 terabytes of capacity, opening up even more opportunities for digital transformation and innovation.
This increase in capacity and reduction in latency and cost, coupled with new technologies and changing consumer behavior in emerging markets, has made Marseille an incredibly attractive colocation hub for numerous companies.
Boosting Marseille's attractiveness even further is the shift to 5G. Most data traffic in regions like Africa and the Middle East now goes through mobile devices. When 5G starts rolling out, countries like Sri Lanka and Kenya will see huge advances in how they access content and services—and their demand for content and connectivity will blow up. In as soon as five years, a majority of all data traffic to these regions will likely come through Marseille.
In the Middle East and Africa, the digital revolution is just beginning. New advances in connectivity and digital content are opening up a whole new world of opportunity in these emerging markets. And businesses looking to get in on the action won't be able to ignore the international content hub of Marseille.