Chris George MIoR answers the key questions about how and why data center roof construction can help to minimize the risk of water ingress and, hence, downtime.
Why does the specification of a cover board make a difference to mission critical projects?
Each mission critical project has slightly different specification objectives. Any nuances will be driven by legal obligations, insurance requirements, and specification need across geographical zones and countries.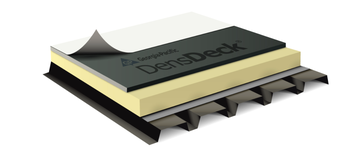 Data centers are designed to house equipment safely. They tend to be cuboidal in shape and generally house a large amount of building services outside the building. This allows the maintenance of the building services to be undertaken without affecting the sensitive interior humidity and temperature levels and doesn't put the invaluable technology at unnecessary risk.
What is the cost of data center downtime?
Downtime risk mitigation is one of the key design objectives in data centers, and a robust roof that offers maximum protection and requires minimum maintenance is critical. A study into the cost of downtime in data centers by Emerson Network Power (2010) in the US included data from 41 independent, average sized facilities. The study found an average financial loss of £4,131 per minute or £247,000 per hour (the original study values are $5,600 and $336,000, respectively).
The study also quotes that the main reasons for downtime are uninterruptible power supply (UPS) failure (29 percent), human error (24 percent) and water, heat, and air conditioning failure (15 percent). Leaks are responsible for 10 percent of all unplanned service outages. It is worth noting that since 2010 our use of, and dependence on, technology has expanded significantly and therefore, the cost of outages is likely to be higher.
Data center roof as a platform for building services
As the study above suggests, air conditioning and UPSs are pivotal components of the complex data center infrastructure. Data center roofs are frequently used to house a considerable amount of HVAC (heating, ventilation and cooling) plant and building services. This poses multiple risks to the roof build-up during the construction and once the building is finished.
The weight and potential failure of the roof mounted plant and a large number of various types of service penetrations to the roof can play a role in the roof design and specification. Another factor is the intensity of roof traffic during the initial installation. The frequent roof traffic may remain once the building is finished, as the installed plant requires continuous maintenance. Dropped tools or removing equipment for servicing can pose a puncture risk to the waterproofing membrane.
Is the speed of the data center roof installation critical?
The cost and the speed of assembly are two of the main drivers for data center roof assembly specification. Flat or low slope roofs with a build-up of metal decks with single-ply/reinforced bituminous membranes and metal top sheets are the most specified roof types. Adhered attachment is preferred over mechanical as it reduces the number of penetrations and, with it, the risks of failure. The recent proliferation of green roofs closely follows this.
The sooner the data center is weatherproofed, the sooner it can operate and create revenue. Regardless of the roof type, installation methods, and roof build-up components, products that can help expedite the weatherproofing stage can be crucial to giving the data center business edge in an incredibly competitive sector.
How can gypsum core cover boards help improve roof performance in challenging weather conditions?
Cover boards can increase the dimensional stability of a roof system. Some traditional boards, such as plywood and OSB (oriented strand board), have limited moisture and moisture vapour resistance without additional weatherproofing treatment. These boards require priming and sanding to ensure compatibility with adhered and semi-adhered roof membranes.
Cementitious cover boards can offer improved material compatibility with roofing membranes. However, they are heavy and can be difficult to cut. This can mean more deliveries, manoeuvrability challenges on site and additional strain on labour and resources on site. Most cement cover boards can absorb moisture. This might need to be considered because of the additional weight loading this could pose on the roof structure.
In contrast, DensDeck® Prime Roof Boards are enhanced with the patented EONIC® Technology. The cover board offers the benefit of a maximum of five percent total water absorption resistance by weight and one gram nominal surface water absorption performance on both sides of the board.
Data centers are particularly vulnerable to moisture and vapour ingress that could cause damage to technology within the structure. Specifiers lean toward flat roof assemblies that can help prevent moisture ingress and are robust enough to ensure a low risk of failure over long periods. It is worth noting that the performance of specific gypsum core boards may differ by manufacturer.
Strength and durability of gypsum core cover boards
Tests were conducted in October 2016 by Trinity ERD in Columbia, South Carolina, on three types of gypsum cover boards. A standard ½ inch (12.7mm) gypsum cover board, a glass fibre mat gypsum cover board by Georgia-Pacific - the DensDeck® Prime Roof Board with EONIC® Technology, and the third was an alternative mat facer gypsum board. The results show that the DensDeck® Prime Roof Board with EONIC® Technology is 52 percent stronger than alternative gypsum fibre and 57 percent stronger than alternative coated glass mat gypsum board.
After a standard two-hour soak test, DensDeck® Prime Roof Board was 87 percent stronger than alternative mat face gypsum and 267 percent stronger than a standard gypsum board. These performance markers show the long-term structural strength and robustness of the boards when incidentally exposed to moisture.
Wind uplift resistance of mat facer gypsum cover boards
The addition of a glass fibre mat facer broadens the compatibility of the DensDeck® Prime Roof Board. The coating primes the cover board for application of various roof adhesives and hot mopped, cold mastic and torch-applied modified bitumen roof systems. This encourages a more uniform and consistent spread of adhesives, ensuring a stronger bond. In adhered, single ply membrane testing done in accordance with FM approvals 4470, DensDeck® Prime Roof Board demonstrated an average of 24 percent better bond than glass fibre matt gypsum board without EONIC® technology when using solvent-based adhesives. 1
The critical mat to core bond strength is also improved. In independent testing conducted by PRI Construction Materials Technologies in October 2017, DensDeck® Prime Roof Board with EONIC® Technology tested in accordance with ASTM C209 averaged 23 percent stronger on the face and 192 percent stronger on the back than boards without EONIC® technology. The increased mat to core and substrate to roof membrane bond can significantly improve the uplift resistance of the whole flat roof system.
What are the commercial implications of cover board specification?
According to FMI Roof Cover Board Survey 2020, roofs with coverboards were nearly twice as likely to meet the owners' expectations for roof life (86 percent with vs 52 percent without). The same survey also showed that single ply roof systems specified with DensDeck® Roof Board extend the median life of the system by four years. The operation and maintenance costs are reduced by approximately £11 per square metre.
We have already considered how DensDeck® Roof Board can help improve moisture and wind uplift performance and how it can add strength and durability to the low slope of a flat roof system. The cover board can also enhance the acoustic and fire performance of the roof build up. The low weight of the boards and the relatively easy installation that doesn't require specialist tools are crucial. Construction efficiency is critical for the success of your data center project.
Drop us a message to learn more about the benefits of DensDeck® Roof Boards for your next data center project or get specification advice.
1. Testing was done in accordance with FM approvals 4470, Appendix C: Small Scale Tests, Membrane Delamination Tests for Roofing Membranes and Substrates Using Tensile Loading