Lithium-ion (li-ion) offers significant advantages over traditional lead-acid batteries, providing energy efficient backup to critical power systems via uninterruptible power supplies (UPS). Although once a controversial topic, they have fast become a popular choice in both edge computing and larger data center environments, being smaller, lighter and requiring far less maintenance than their lead-acid alternatives.
Additionally, they have a lifecycle that far exceeds VRLA and charge much more quickly, which contributes to reduced energy usage and lower long term total cost of ownership (TCO).
Furthermore, the main disadvantage - a higher up-front acquisition cost - is being annually eroded thanks to technology advances and an increase in the use of large format Li-ion battery systems for electric vehicles and energy storage applications.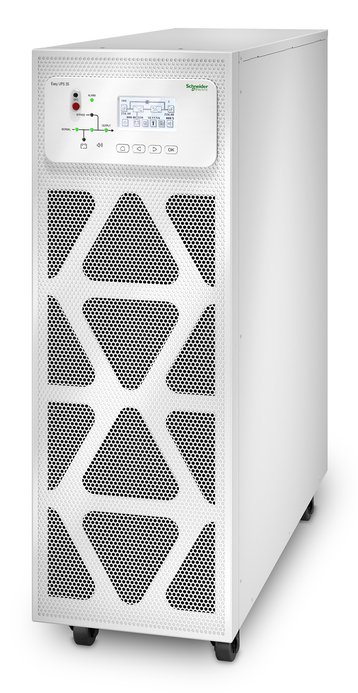 The clue is in the chemistry
Within its chemical composition li-ion differs greatly from lead-acid, typically having metal-oxide cathodes, carbon-based anodes and an electrolyte solution composed of a lithium salt, which is dissolved in an organic solvent. Lead-acid batteries however, have anodes and cathodes made of lead, lead dioxide and a form of sulfuric acid as the electrolyte.
Although there are many variations in design and chemistry amongst lithium-ion cells, some generalizations can be made by way of comparison between large format Li-ion and valve-regulated lead-acid batteries in common use within today's 3 phase UPS systems. Li-ion typically offers a higher energy density, between 70 and 260Wh/kg compared with lead acid batteries that offer between 15 and 50Wh/kg.
Lithium-ion uninterruptible power cells also offer a longer life span, typically between 10 and 15 years, compared with lead-acid batteries, whose equivalent is between four and six years. Li-ion can withstand a charge/discharge cycle of more than a thousand times whereas lead-acid batteries will only deliver typically, between 200 and 400. Additionally, Li-ion batteries take much less time to recharge; between 30 minutes and an hour, compared to anything between 6 and 12 hours for lead-acid.
Such attributes have contributed to Li-ion delivering a lower TCO thanks to lower operating costs mostly by way of not having to replace the batteries as often. They occupy less space and do not need as much maintenance, thereby reducing both acquisition and expenditure on service. They are also specified to operate at a higher temperature and require less cooling, which reduces energy costs.
The research findings
One study conducted by Schneider Electric's Data Center Science Center found that over a 10-year period, Li-ion delivered a TCO that is between 10 percent and 40 percent less than equivalent UPS systems based on valve-regulated lead-acid batteries.
Li-ion batteries still remain incrementally more expensive than their older equivalents. As of 2018, their cost sat roughly between 1.2 and 2 times the cost of lead-acid batteries, dependent on the location they were sourced and whether the VRLA system included a battery management system or not, with the same power level and runtime. However, it should be borne in mind that a few years ago the differential was nearly 10 times the price. Future technology enhancements and additional gains in manufacturing efficiency may likely lead to further cost reductions.
Other perceived drawbacks to adopting Li-ion batteries are also being mitigated thanks to improved technology and handling methods. Due to their higher energy density and greater sensitivity to being overcharged, they have been thought to be more volatile and at greater risk of catching fire. See more on replacing batteries here.
However, advancements during the last two decades, in addition to the presence of required safety measures at the cell, module and system level, have made them very safe by today's standards. Properly designed and implemented, these measures ensure battery failures do not lead to a fire, and with billions of rechargeable li-ion cells sold globally each year, statistically these batteries have become incredibly safe and reliable.
Utilizing software for lower TCO
Battery management systems (BMS) comprising sensors and switches, are now an intrinsic part of any Li-ion based UPS. The BMS constantly monitors at cell level the battery temperature, charge level and charge rate to protect against short circuits and overcharging.
It may also prevent the voltage from dropping too low on discharge and damaging the cells as a consequence. The BMS provides the UPS operator with accurate information about status, health and available runtime. Naturally, this incurs an intrinsic up-front acquisition cost but helps reduce the operating costs spent on UPS maintenance over the lifetime, contributing to lower TCO.
Other attributes which contribute to lower UPS maintenance costs include the fact that there is no fluid level to measure and maintain, there is no battery "memory" to worry about and no need to cycle the batteries periodically to calibrate their runtime.
Depending on the composition of an existing UPS, it may be possible to substitute Li-ion batteries for existing lead-acid batteries with merely a change in firmware. However, Li-ion is not hot-swappable owing to its high sensitivity being over and/or under charged.
Greater sustainability
From a sustainability perspective Li-ion batteries do not contain hazardous chemical materials and are increasingly easier to recycle, as waste-management operators become more familiar with the specific procedures needed to handle large format systems.
Li-ion and its accompanying UPS technology continues to become more widely adopted in hyperscale data center and edge computing environments alike. In many cases thanks to the advantages of lower TCO, lower capital-acquisition cost, greater lifecycle and reduced UPS maintenance.
When coupled with greater energy efficiency and greater sustainability aspects, it's clear to see why they're becoming an even more attractive choice for critical IT applications, both now and in the future.