Today's business world revolves around data. The access to data and insights that can be gleaned from it is at the heart of driving business efficiency, innovation and new IT solutions. This unprecedented growth and reliance on data, as well as the user expectation to be able to access it more freely, is redefining the role of the data center and the IT infrastructure that surrounds it.
The enterprise is therefore looking to make its data work quicker, more efficiently and effectively, driving faster analytics, improving agility and reducing total cost of ownership. Equally, the software, services and devices needed to access and use the data, must seamlessly work together to complete the picture, allowing businesses to focus on efficiency, utility and value.
It is meeting these growing business needs that led Lenovo to acquire IBM's x86 server business one year ago. Coupled with its PC, smartphone and tablets business units, the acquisition of the System x server business has effectively allowed Lenovo to become an end-to-end supplier of IT hardware for its customers.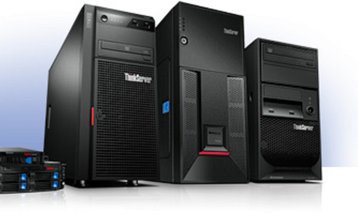 A changing server market
Compared to the PC and smartphone space, the server business is, from a technology and market perspective, going through the most disruption. Many of these changes are being driven by the growth of data, and how we access it. Cloud computing in particular has changed how server and storage solutions are packaged and delivered. Some of the key trends that have been shaping the evolving server market the past year, and continue to do so:
Less middle ground: increasingly, the market is splitting into two-socket server systems and large memory, high-end systems. On the one hand, the growth of more general purpose two-socket systems has been driven by the continued deployment of virtualisation and cloud computing, where the focus is on the applications. On the other, high-end systems are needed for greater compute power and data analysis. These changing hardware needs in the market has meant that there is less focus on mid-range server solutions
Storage rich servers: to facilitate data analytics and software defined storage solutions, there has been an increased focus on storage rich servers. Whereas traditional servers are defined by their reliability, availability and serviceability, cloud computing is more application driven. This is leading to IT teams wanting to move data from storage-area networks (SAN) to internal server storage solutions, requiring greater capacity of these servers
Growth of flash: With ever increasing storage demands, flash based servers are helping to reduce power usage while increasing I/O performance. The performance benefits of flash storage over spinning disks is particularly applicable in hybrid arrays, where the flash storage can deliver greater performance when handling random workloads, leaving the spinning disks to handle sequential write workloads
Although the changes being driven by increased storage needs and cloud computing significant shift what is required of IT hardware, the basis of these concepts and technologies is still the server. This continued need for servers and the drive towards providing end-to-end solutions are the reasons why Lenovo sought to expand its position in this market in October 2014.
Integrating System x
With the acquisition of IBM's x86 Server business, Lenovo jumped from sixth to third place in the global server market. Within the x86 Server space, our market share is already over 10 percent of an industry predicted to be worth $11bn in 2016, and we are set up to grow that share.
Following the October 2014 acquisition, Lenovo integrated the x86 server business into its existing structure in the UK and across EMEA in January 2015. Importantly, the acquisition was for the end-to-end business including its talent, not simply products. This means that Lenovo has now brought onboard the whole x86 team. With its 30-year history of technical experience with x86 Servers – growing both expertise and product range beyond our own ThinkServer line.
In practice, the integration has meant bolstering Lenovo's channel team with server specialists, and successfully bringing the PC and Enterprise Business together to increase efficiencies. An example of increasing efficiency can be seen in the logistics and supply chain, where x86 Servers are now also being shipped by sea. This replicates the business model used for Lenovo's PC division, making the logistics of the servers more cost efficient, and allowing these solutions to be more affordable and competitive in, particularly, the mid-market and SMB space.
In addition, Lenovo now works with key software vendors to provide customers with open and flexible solutions to support of the needs of their data center, but partnering with likes of Pivot 3 and Atlantis customers can access the latest technology across the entire eco-system.
The integration means that the businesses now operate as one, with one face to customers. As Lenovo moves towards being a consolidated technology provider – while others are moving away from this approach – it means we're able to create better value, scale and synergy between product categories, enabling customers find an end-to-end solution for its IT needs through a single supplier.
Guy England is director of the enterprise business group at Lenovo