For some, the colocation facility can seem like a standard of a bygone era - the mental image of stacks of data racks whirring away somehow incompatible with big, sexy ideas like virtual reality (VR) and high power computing (HPC). This couldn't be further from the truth. In the age of IT overhaul, the colocation facility is not only alive, but also flourishing. Two weeks ago I attended the Datacloud Europe event in Monaco and there was an overwhelming mood of optimism and confidence. Those at the top of colocation game feel that the sector is full of vitality, and that this is primarily due to the fact that current IT trends favour its growth.
The spate of M&A activity that the sector has seen over the last year or so is indicative of this rude health. The continued growth of challenging technology strands, such as VR, HPC and Internet of Things (IoT) stimulates demand for colocation capacities. While cloud computing is acknowledged to provide vital support to IT departments, it's clear that in many organisations there is still the desire to have physical contact with the systems that store their data.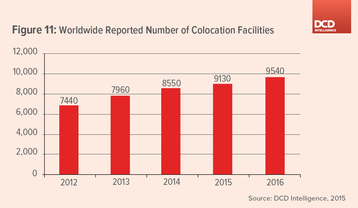 Constant change
Regardless of the type of organisation, the one constant in IT departments recently has been change. Not only are organisations carrying and processing unprecedented volumes of data, they are also leveraging that data in new ways - whether to drive sophisticated big data analytics programmes or to launch initiatives using the IoT or even VR. For example, with the latter colocation facilities will play a key role in facilitating an unhindered user experience, providing a secure and adaptable contingency infrastructure.
One of the key concerns facing those considering VR, especially for high traffic purposes such as streaming live sporting events, will be speed and connectivity. Colocation facilities have the capacity to support the copious amounts of data produced, with additional layers of security provided by back-up structures and responsive plans in the case of network outages.
Colocation can deliver something that cloud computing, by its very nature, excludes - physical contact with the systems used to store data
Meanwhile, HPC - which has emerged as a key pillar to these new technologies - will likely come to lean on those colocation facilities that can deliver an infrastructure with sophisticated cooling capacities and high-density power configurations. Proofing a site for HPC can be a complex process, but many colocation facilities possess the necessary facilities to be an anchor in any HPC growth.
Cloud promotes ignorance
Although there are those who have been skeptical about the relevance of the colocation center in the face of cloud computing, it's becoming abundantly clear that the colocation center can deliver something that cloud computing, by its very nature, excludes. This is the certainty that comes with being able to have physical contact with the systems used to store data. Cloud usually requires IT decision-makers to take on a certain level of ignorance regarding the exact physical location of their data, and cedes physical access to this data. For many organisations, especially in the SMB space, this sense of physical security offers a much-needed level of confidence. Having the assurance of a sturdy partner taking care of your data can allow organisations to take calculated risks in other areas of IT strategy. For all its benefits, this factor is unavailable in pure cloud computing - and it is precisely this which helps to buoy up the colocation facility.
The M&A landscape over the past two years bears witness to the fruits of the above trends - vitality in the sector. 2015 saw a series of big deals, whilst 2016 has already yielded multi-million pound investments in the sector. Equinix's $3.8 billion acquisition of TelecityGroup was one such example, illustrating how companies are willing to devote large amounts of capital in growth. Smaller purchases, such as QTS Realty Trust's acquisition of Carpathia Hosting, demonstrate how this confidence is not confined to the big gorillas of the industry. Ultimately, decision-makers in the colocation space are looking at the business environment, at the changes sweeping the IT department and the persisting requirement for physical contact with data storage systems, and are seeing opportunities for growth. It looks like a bright future awaits those who can provide these facilities in both a reliable and an adaptable manner.
Greg McCulloch is CEO of Aegis Data