I've often heard urgent calls to end the silos in the data center world, that separate IT from facilities. This week, I've seen first-hand evidence that they are finally going.
Facilities management needs to converge with IT management. The mechanical and electrical plant needs to be handled in conjunction with the racks, cabinets, servers and storage that it supports.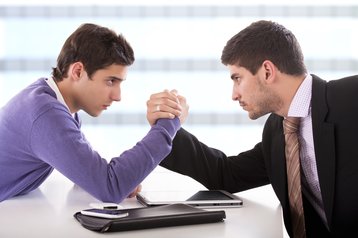 Obstacles in the way
I've always felt it's obvious that this would be a good thing, but it's going to be difficult to make it happen, given how people get entrenched. The facilities department has a track record to defend, and IT has been very inward-looking.
I've assumed that any attempt to change things from the top will be seen as a risky strategy, because, well, change. Most often these suggestions to "end the silos" have a note of pleading. It sounds like people are resigned to continued divisions, as everyone else says "don't rock the boat".  
But here's some evidence from the grass roots, that those silos may actually, finally be on the way out.
In the April/May issue of DatacenterDynamics magazine, I looked at the human factor - the role of people in the data center. I spoke to big operators, and to employment consultants. What I heard is that the roles in data centers are changing.
And then, in the DCD offices, I got a first hand look at the reality of why the separation between those roles is gone.
Jobs merging
The work in a data center is changing anyway, whatever your established organizational structure. While it takes a lot of people to build a data center, it takes very few to run it. And since only a handful of those will be on duty at any given moment, they have to be generalists.
"There's a new breed of data center technician, or data center engineer, with multiple skills," says Peter Hannaford of specialist staff consultant Datacenter People. If you only have one person in your network operation center (NOC) when a failure happens, it should be someone with IT skills, who can identify the problem and call in appropriate mechanical or electrical experts.
All the equipment in the data center is becoming more automated and instrumented, so the work is becoming more IT related. Both (DCIM), and the building management system (BMS) effectively place the building under IT's control.
There's a new breed of data center technician, or data center engineer, with multiple skills

Petter Hannaford, Datacenter People
"When the service goes down," says Hannaford, "the power guy will think if there is something wrong with the power, and the mechanical guy will think about the cooling. The IT person is probably bridging the two."
The grassroots agree
Is that really happening on the ground? DCD's DCPro training business runs courses on various aspects of data centers, and last week I sat in on the Data Center Cooling Professional course, which is all about cooling equipment, airflow and efficiency.
This sounds solidly in the facilities part of the picture, but right from the start, it's been noticeable that IT issues are inextricably linked to cooling - and the students wanted to know about this.
What cooling you use is determined partly by your power density, and that could change radically as OCP architectures come in, and new kinds of storage populate those racks. Anyone cooling a data center has to know that hotspots may move from rack to rack, thanks to virtualization. And OCP is trying out architectures where batteries are distributed through the racks, which fundamentally changes cooling requirements.
The old job specializations are being thrown out, as they simply don't match current practises in the data center.
A version of this story appeared on Green Data Center News