When we see the massive growth in devices (each creating and utilizing associated storage), it does not take a rocket scientist to understand that the number of IT administrators will not grow linearly with this trend. These poor souls, burdened with maintaining and growing the underlying infrastructure, will depend upon simplicity and efficiency to keep up with the pace of change accelerating every day.
They need to have dependable building blocks that become their "go-to" solution for everyday needs, so that they can focus their time and resources on building out best-of-breed configurations for the applications that drive the core of their business. Both software-defined storage (SDS) and hyper-converged (HC) appliances provide them useful tools for supporting the new class of applications and to create efficiencies that allow them to keep up.
What is SDS?
SDS has been around for a few years now, and it's steadily gaining traction. In a new poll of IT decision makers by ActualTech Media, SDS was identified as the top data center trend under consideration for adoption. (You can read an executive summary of Hyper-converged Infrastructure in the Modern Enterprise here, or register to read the detailed reports on data center Challenges and Infrastructure Sentiment and Hyper-Converged Infrastructure Use-cases.)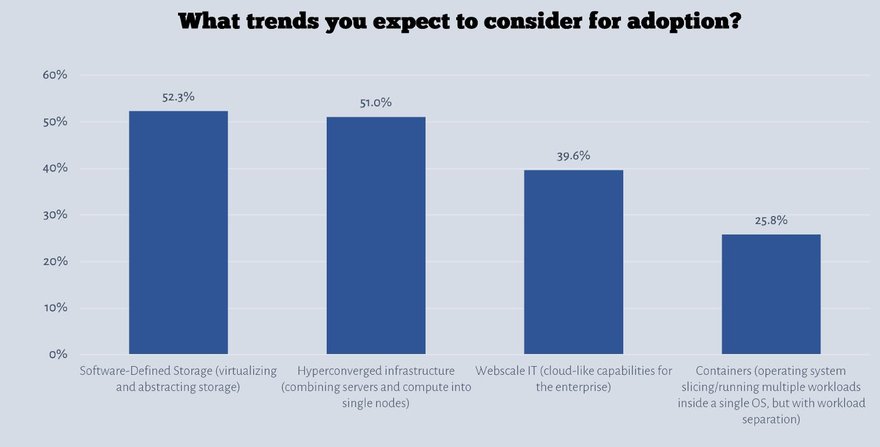 In common with other software-defined architectures (software-defined networking, for example), SDS works by creating an intelligent software-based control layer on top of the physical infrastructure. It provides API-based management and orchestration tools to enable you to manage storage resources from a single interface. Whatever form the delivery model takes – and they range from storage-within-server to virtual storage appliances to cloud-based models – a good SDS solution should be able to provide the same full suite of storage data services that traditional storage does, such as application managed snapshots, auto-tiered storage, and thin provisioning. However, in the case of SDS, they'll be delivered by the software, rather than by the storage hardware itself.
How SDS benefits your data center
Software-defined storage solutions make your data center more flexible and efficient in at least three ways:
1. Investment protection. A true SDS platform should support open standards and interfaces and not lock you into any one particular hypervisor strategy or hardware platform. It should allow you to repurpose and consolidate existing server and storage hardware from any supplier while enabling interoperability with newer, purpose-built hardware stacks. While it makes sense to tie SDS to a pre-certified set of hardware because you get more reliability and resiliency by doing that, you're not necessarily tied to any one supplier.
2. Transparency of management. The goal of your SDS supplier should be invisibility. In other words, your supplier should conform to your management paradigm of choice, be that REST API-based automation, direct management through an OS or hypervisor, or a truly consumer-driven graphical interface.
3. Simple scalability. SDS solutions are scale-out solutions designed to enable you to add on for increased capacity and performance. Because you're not tied to hard-wired architectures, it's easy to add capacity on the fly without disrupting your existing applications and processes.
While SDS can address a wide range of customer needs, some may want a solution that impacts even more of their data center – think compute, networking, etc. This is where hyper-convergence (HC) comes to play.
What is hyper-convergence?
Though a relatively new entrant to the marketplace, HC is tracking very closely behind standard SDS in the technologies that companies are eyeing for adoption according to ActualTech Media (see above).
By definition, HC is a lot more than storage. In addition to SDS arrays, it combines compute, network fabric and virtualization software, as well as management tools, into one tight package. Often, that package is a single, highly compact appliance. These are turnkey, "software-defined data center in a box" solutions.
Most HC options on the market trade limitations in flexibility for efficiency of design and speed/simplicity of deployment, which is actually OK. When faced with the proliferation of data at the edge as well as at the core of the enterprise, companies will need to investigate storage options that are simplified, modular, and flexible enough for wide geographical distribution, for example to branch offices. HC offers these benefits in spades.
How does HC benefit the data center?
Hyper-converged infrastructure is simple and cost-effective. The simplicity of having compute, storage and network tightly coupled in one solution makes for fast, straightforward installation – some HC appliances can be up and running in as little as 15 minutes. That means you can expect a fast return on the investment. Another benefit of this simplicity is that HC doesn't demand highly specialized maintenance and operations expertise. This eases a real pain point for companies. In the ActualTech Media report, "difficulty in maintaining wide breadth of staff skills and knowledge" was identified as the biggest IT challenge, cited by 45 percent of respondents.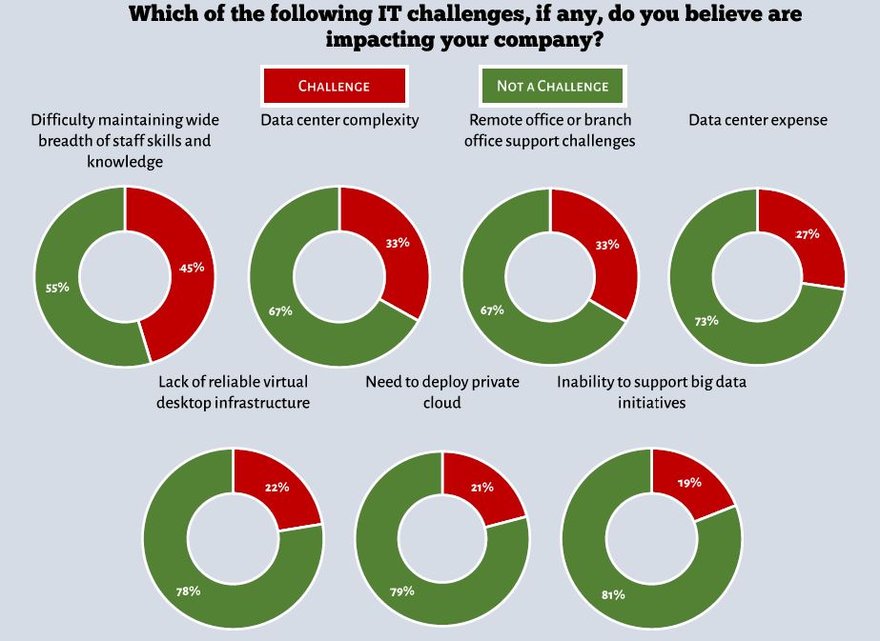 1. HC is adaptable and modular. One misperception that's fairly common in the marketplace is that hyper-converged solutions are just another siloed stack for specific workloads, isolated from the data center at large. The reality is that when designed properly, these solutions can easily integrate with your current IT environment. They're modular, so you can scale out easily, simply by adding more units. Customers, though, should be wary of HC systems that build "disconnected islands." Make sure your HC provider includes the ability to independently add capacity and performance and to span multiple form factors, including truly composable infrastructure at data center scale.
2. HC is versatile. HC supports a variety of use cases, including desktop virtualization and most common office applications. Leveraging HC to add resource depth for branches and remote offices is an attractive option; one-third of enterprises say support for remote or branch locations is a challenge, according to ActualTech Media. In addition, many organizations see HC as a way to extend the benefits of virtualization by making their first foray into cloud services, an essential step on the road to data center modernization and digital transformation.
Whatever the specific use cases may be, companies that adopt SDS and HC solutions as an additional tier of the data center are heading in the right direction. They're building simple, rapid responses to business needs in order to thrive in the new digital economy. And they're focusing their limited resources on architecting and building out projects for their tier-one applications.
Neeraj Gokhale is vice president of Global Marketing and Product Management for HPE Storage.