For years, Amazon Web Services, Microsoft Azure and Google Cloud have hogged the headlines when it comes to cloud computing as they battle for the biggest piece of the same pie. As of April, AWS remained in the lead, with a 43 percent market share compared with 22 percent and seven percent for Azure and Google, respectively.
With big-name customers and virtually unlimited resources for innovation, it's no surprise these vendors get the first look when enterprises begin to consider cloud solutions. But smaller vendors play an important role in the cloud market. In fact, depending on your organization's priorities, a smaller cloud vendor may provide the ideal combination of flexibility and support you need as part of your multi-cloud environment.
You may not know them by name - and they currently make up just 16 percent of the public cloud market - but smaller companies are primed to unleash the next big cloud innovation. Your enterprise won't want to miss out when they do. Here's how IT decision makers can push through the noise of the Big Three cloud players and consider the offerings that matter most to their organizations when it comes to the cloud.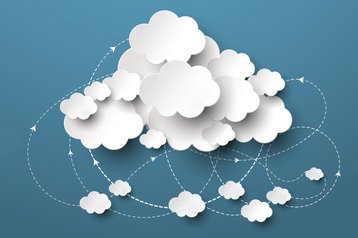 Your priority: competitive pricing
Virtually every company that begins using one of the Big Three cloud solutions is impressed by their solution's ease of use - but then quickly horrified by the mounting costs. While initial fees seem reasonable, the service structure is always complicated, and those nickels and dimes can add up to significant cost overruns.
Meanwhile, smaller cloud providers often have innovative pricing for services and configurations, and aren't necessarily burdened by supporting a giant à la carte menu designed to meet the needs of every possible client. Because they are niche providers, smaller clouds can be more transparent about costs. Their offerings often include important services as a default, instead of forcing users to order, provision, pay and configure them - as is the case when working with a larger provider.
Your priority: better services
If your company assumes that more name recognition means more reliable services, it's time to put that notion to rest. At this stage of the game, even smaller cloud companies have faced their fair share of consolidation. If they've survived this far, they've proven their mettle as a reliable provider - and a strong contender for your multi-cloud environment.
When selecting multiple clouds, it's wise to investigate a blend of two or three providers that best fit your needs. This helps avoid putting all your eggs in one basket from a security and connectivity standpoint, while still sidestepping data silos and easing the establishment of processes.
While the Big Three may tout their services, they may not be the best fit for your company. For example, second-tier providers like Oracle boast excellent database services with built-in resilience. So, if your company uses a lot of applications built in Oracle, it makes the most sense to consider smaller cloud vendors that specialize in Oracle-based apps or tout an Oracle support program. That's not something the Big Three can offer you.
Your priority: engaged support
This category should be an obvious benefit of second-tier cloud providers - with fewer customers on their plates, they're better able to meet (and exceed) your expectations. If something goes wrong with your cloud solution while working with a Big Three vendor, you'll find yourself writing tech support tickets and interfacing with customer service through a faceless portal. But the closer, more intimate relationship you'll develop with a smaller vendor means prompt, focused service from a vendor that truly cares about your success.
The personal support relationship you'll enjoy with a second-tier vendor means you'll likely be among the first to hear about new offerings, product launches and pilot cases. And they won't just be random offerings. As a valued part of their business, cloud providers may even develop new solutions with your specific needs in mind because they understand your pain points and want to proactively solve them.
There's a lot up in the air when it comes to cloud providers right now, thanks to rapidly evolving technology and a rush for market share. But as second-tier providers establish themselves as experts in a niche area of cloud computing, the best will rise to the top - and you'll be right there with them as a valued client who believes in their work.