With 2018 behind us, cybersecurity professionals are surveying the damage inflicted last year while enterprises, colocation providers, and hyperscalers are planning what their edge solutions are going to look like in 2019. What impact will the talent shortage have on data center and IT operations in 2019? How will cybersecurity solutions protect us against foreign hackers? Will IoT overwhelm us with data?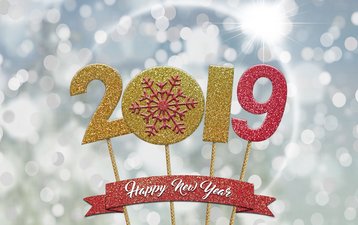 My crystal ball is a bit cloudy at times and I have yet to implement machine-learning into my predictions, so there are some hits, misses, and some in between. So, it's time to take my bows and beatings for my Data Center and IT Predictions for 2018.
Did edge computing take off in 2018? Was GDPR the horror show that Max Smolaks and I predicted? Did the rush to implement blockchain become a reality? Read on and find out how I did in predicting the data center and IT market trends for 2018.
1: Nobody's data is safe
Grade: A+
This is one case where I wish I was wrong, but unfortunately, I nailed this one. The City of Atlanta was held hostage by a SamSam ransomware attack for five days in March and are still recovering from the damage, with costs running up to $17M. Disaster recovery and business continuity anyone?
Marriott exposed the data of 500 million accounts over a four-year period ending this fall. Under Armor did the same with 150 million accounts this year. Multiple social media sites exposed our personal data or flat out gave it away. A casino was hacked and lost data through a wireless sensor in a fish tank scaring the bejesus out of those implementing IoT devices on a large scale.
When the Equifax breach sinks to the seventh worst hack of all-time, you know things have gotten bad. Hopefully GDPR and other regulation help create a greater sense of urgency so that companies take this more seriously.
2: Applications of Artificial Intelligence increase
Grade: A
ESPN's AI-driven Football Power Index continued to impress this year by predicting that my beloved Huskers would only win between 4.5 and 5.5 games. I didn't have high expectations with a new coach, but I thought they would win at least 6 games. Alas, they ended up 4-8 again.
AI is maturing faster than many thought it would, and is becoming more readily available to the masses. More and more data centers are using it to optimize their efficiency. AI is also being used widely in the cybersecurity world as a way to compensate for the drastic talent shortage. The drone industry is leveraging this technology to further enable BVLOS (Beyond Visual Line of Sight) operations.
3: Edge computing continues to grow by leaps and bounds
Grade: B
Although edge computing grew rapidly in 2018, it didn't quite achieve the "leaps and bounds" in my opinion. I think this is because people are still trying to figure out where their edge is and what they want it to look like. Kind of an analysis paralysis, if you will. I also think that many of the technologies that I mentioned as drivers are still maturing in real time.
While AI matured faster than I anticipated, AR, VR, IoT, and autonomous vehicles have yet to reach puberty. Think about the impact military and commercial drones will have on edge. Autonomous cars reportedly produce 4 TB of data per day. A military drone produces 2 TB of data per hour per sensor, with them typically having 2-4 sensors. This will further emphasize the importance of connectivity tools like SD-WAN and the pending rollout of 5G.
4: Blockchain continues to confuse – and excite
Grade: A
Confusion still reins with many on this technology. Many still think it's the same as cryptocurrency. My former co-worker Jim McCarthy is the only person I've met that can dumb it down enough for most people to understand. Many believed blockchain would be a panacea for cybersecurity. And since it appears that it isn't GDPR-compliant, this likely isn't the case. With all of the thefts of cryptocurrency, one could also question how secure the technology really is.
Financial institutions like JPMorgan Chase seem to be implementing it and more cloud providers are offering it as a service. I am sure there are myriad ways in which blockchain can and will be used, but I think it will take a bit longer to work out the kinks and for it to really take off.
5: GDPR leaves a regulatory skid mark on unsuspecting offenders
Grade: F
The big bad GDPR took effect in May of 2018 to great fanfare, but so far, it's been much ado about nothing. The law has big sharp teeth, but without enforcement, it's nothing more than a scare tactic. Did they simply fail to staff up for enforcement?
There are reports that as many as 50% of affected companies are still not compliant, indicating that many are not taking this seriously. Enforcement of GDPR may ramp up in 2019, but my prediction of it leaving a "regulatory skid mark" in 2018 was a big miss. Will other regulations like California's online privacy law step up to protect us?
6: Data center mergers & acquisitions to continue
Grade: B
The year in M&A got off to a fast start with Iron Mountain acquiring IO Data Centers in January for $1.34B. Equinix announced in February that they were purchasing the iconic Infomart Dallas. Ensono closed their purchase of Wipro's data center business in June for $405M. AT&T announced in June that it planned to sell 31 data centers to Brookfield Infrastructure Partners for $1.1B. Digital Realty announced in September that it would acquire Brazilian data center firm Ascenty for $1.8M.
H5 Data Centers purchased San Antonio's carrier hotel in November continuing their preferred method of growth. DataBank acquired LightBound in mid-December bringing two data centers in Indiana into the fold. Carter Validus made multiple acquisitions in 2018 adding assets in Canton, OH; Connecticut; and San Jose. Vantage Data Centers closed the year with the acquisition of Canada's 4Degrees Colocation.
Although there was a lot of deal flow in 2018, I gave myself a B since the deals weren't as large and didn't add up to the record $20B in transactions that took place in 2017.
7: Power densities will increase, and this time I mean it!
Grade: C
From discussions I've had with various colocation providers, it appears that enterprise densities are inching up. The hyperscalers continue to push their densities higher. With that said, I don't think any major movement was made this year without seeing the data to prove it.
8: The hyperscalers continue their hyperactivity
Grade: A
I know, I really went out on a limb with this prediction. The big got bigger, a lot bigger. The hyperscale players continued to invest at their established locations in Washington, Oregon, Iowa, Texas, and the Carolinas. They also started new campuses in New Mexico, Nebraska, and other locations. This doesn't even address their expansions overseas. They continue to drive the wholesale colocation market as well.
It will be interesting to see if the tight construction labor pool can continue to support their appetite for growth. There are less people choosing the skilled trades as a career than ever. We need to find other ways in which to supplement the labor pool like implementing more prefabrication.
9: Autonomous vehicles turn data lakes into data oceans
Grade: D+
At the beginning of the year, I thought the autonomous vehicle market seemed to be maturing quickly. As the year went on, this didn't turn out to be the case. Whether the cause was accident related or regulatory, self-driving vehicles did not become mainstream in 2018 and the corresponding data did not materialize as I predicted. It's only a matter of time, but 2018 was not the year.
10: Nobody knows how the repeal of Net Neutrality will affect us
Grade: A
So many people predicted various doomsday scenarios resulting from the repeal of Net Neutrality, but very few predicted that we wouldn't notice a thing. I took the easy route and said nobody knows how it will turn out. Pretty lame, but didn't we all take the occasional easy class to shore up our GPA?
Well, there you have it! Similar to college, the results of my predictions are a solid B. As in previous years, you can count on me to hold myself accountable for the accuracy of my predictions. Please let me know what you think and keep an eye out for my fearless prognostications for 2019 to see if I can offer you a fresh perspective on issues that matter to you!