With most enterprises mapping out their 2017 initiatives and corresponding budgets, many IT executives are asking the same question: how much data center capacity will I need next year? What about in three years?
We understand the conundrum that executives face when planning out their IT investments. Thanks to the explosion of data from mobile apps, cloud computing and the Internet of Things (IoT), executives are racing to buy, build or lease data center capacity quickly. Those who plan to invest in traditionally constructed data centers might as well use a crystal ball to determine how much space, power and cooling capacity they'll need. This approach often comes with the following pitfalls.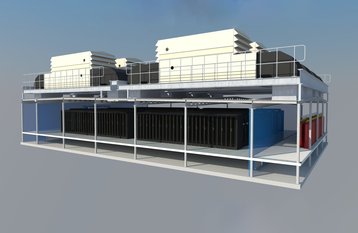 Due to increasing data demands, many enterprises design data centers speculatively to meet estimated needs over multiple years. In most cases, they end up overbuilding in hopes that they grow into the data center over time. This results in lower infrastructure utilization and correspondingly poor energy efficiency. In other words, a lot of empty data center space is powered and cooled unnecessarily.
They end up with outdated or obsolete technology
Data center technology is rapidly evolving. And it's not unusual for technology to be obsolete in as little as two years. Today's high efficiency data centers are designed to handle an average of 10-15 kW per rack versus 5 kW per rack with older designs. By overinvesting in current technology or densities, enterprises risk having a surplus of outdated capacity that impacts the overall productivity of their data centers.
Both of these scenarios result in a higher capex spends, stranded assets and strained budgets.
Modular data centers are not space-constrained
So how do you future-proof your data center? Investing in prefabricated modular (PFM) data centers empowers executives to ditch their crystal balls and "right-size" their data center assets. PFM datacenters are built off-site in an indoor facility and assembled on-site. This process accelerates the construction timeframe, in many cases by 50 percent or more, allowing companies to deploy faster, preserve valuable capital, and realize significant cost savings.
Pre-fabricated modular data centers have carried the stigma of being space-constrained since the early concepts were constructed using ISO shipping containers
Unfortunately, PFM data centers have carried the stigma of being synonymous with space constrained containers for years since the early concepts were constructed using ISO shipping containers. The PFM market has evolved greatly since those early days with some fabricators offering solutions that have the look and feel of traditional construction. Technology and vendor agnostic approaches are also available allowing the enterprise to incorporate their existing standards and specifications into a modular format.
… and they are flexible
But what if an enterprise's data center needs change? Not a problem. Unlike traditional data centers, PFM data centers can meet changing IT needs. Core units can be added like building blocks, keeping IT and facilities usage continually aligned. Organizations can optimize the use of capital and have the flexibility to deploy data center facilities where and when they need them. In many cases, expanding a PFM data center can take less than 90 days. Another, often overlooked, benefit of modular is that it can be depreciated in as little as 7 years as opposed to 39½ years for a traditional real estate asset.
Finally, PFM data centers allow enterprises to efficiently plan out cabinet layout, density and redundancy by application. For example, a healthcare organization can allocate Tier III or Tier IV support to a critical application such as Epic for electronic health records. At the same time, they can set aside lower-tier resources for less critical data assets such as those found in Accounting or Payroll.
Looking to ditch your crystal ball and map out a smart, flexible, future-focused data center strategy? Consider prefabricated modular for your next data center and free your IT from the constraints and inefficiencies of traditional design and construction.
Ron Vokoun is director of Mission Critical Design at RK Mission Critical