One size rarely fits all—and that's certainly the case when it comes to building data centers. A uniform design and construction approach will not always apply, as the geographic, functional, financial and other circumstances of a specific project typically influence its direction.
There are, however, four key construction approaches that tend to dominate data center development, each with its advantages and challenges.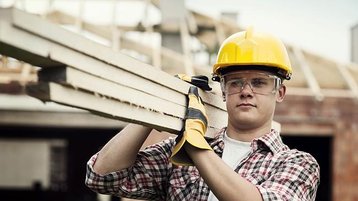 1. Design-Bid-Build
This traditional contracting and program delivery model is typically used to build large-scale data centers in the US. In this approach, the owner contracts individually with the design teams, consultants, and construction manager in a linear process as the planning, design and construction phases take shape.
Strengths
The primary strength of this approach is nearly everyone involved understands it. In other words, there is no real learning curve. What's more, because the design and construction teams remain separate, the system includes inherent checks and balances to help protect quality control and design intent. The owner holds the reins of the project, maintaining control over all aspects of the design and how it is implemented. Financially, this method encourages competition, generally providing the best value to the client.
Weaknesses
The flip side of this approach is the owner must have the expertise and resources to manage the project team, help resolve design and constructability issues, and assume responsibility for design errors and changes. Depending on the timing of the award to the various team members, there may be limited opportunities for the value engineering, collaboration and schedule enhancements usually achieved by overlapping design and construction activities. These factors can also affect costs—if changes are required once construction begins, the cost of change orders and schedule impacts can be significant.
2. Design-Build
A design-build contract offers a one-team approach for architecture, engineering, and construction. The design and construction teams work together from the start toward a single goal of exceeding the client's expectations.
Strengths
The primary benefit of this approach is that the design and construction teams act together to manage the project and resolve issues. The owner focuses on performance specifications, design review and general project progress. This early coordination can lead to a more efficient schedule, fewer change orders, and more innovation as the team works together to solve problems.
Weaknesses
The checks and balances of more traditional models aren't as apparent in this system, so the owner does need to pay close attention to performance specifications throughout development and understand the project scope and risk contracted to the design-build team. In other words, the representation of the client interest in the program is strictly the responsibility of the client; the design-build contractual relationship limits the design team's typical advocacy of the client interests. With this approach, competition may not be as robust since fewer firms have the experience and expertise to manage a large-scale, design-build program.
3. Premanufactured/Prefabricated Solutions
The original inspiration for prefabricated data centers was to deploy data processing facilities in difficult or remote locations, typically for the military. Today, with many more manufacturers and materials to choose from, options include two main categories: 1) modular components based on a standard ISO shipping container footprint; or 2) modular components sized per client requirements, manufactured in a factory and shipped in multiple pieces.
Strengths
The most obvious advantage to this approach is faster deployment time. With a standard design and repeatable implementation process, owners get a consistent product with extremely efficient use of space and infrastructure, typically exceeding 20kW per cabinet and PUEs in the 1.2 to 1.5 range. Using this scalable approach, owners also have the ability to expand the facility as needs change.
Weaknesses
This standardization, however, does have a down side—in some cases, the lack of options could result in less-than-optimal capacities or significant issues in swapping out or moving components as needs change. Also, because the mechanical and electrical system topology and capacities are defined by the manufacturer, they could be integrated within the module and proprietary, making it more difficult to resolve communications issues with existing facilities. These modules are also typically shipped by ground, which can expose equipment to vibration and G forces that could affect their ultimate performance.
4. Developer-Delivered
As the data center real estate industry has experienced exponential growth over the past few years, the number of real estate developers and REITs with a dedicated focus on identifying, developing, and marketing data center properties has also grown. In this approach, the developer manages that process, creating a move-in-ready facility for data center users.
Strengths
With this option, the work is essentially done for the owner, aside from input into specific user needs. This option also provides owners some flexibility to consider all kinds of locations—greenfield, adaptive reuse, built-to-suit—while deferring capital spend. Developers may also offer incentives, from triple net leases to operation and maintenance agreements.
Weaknesses
The main drawback here is the potential for inconsistent tier requirements and reliability. Clear and detailed documentation of the requirements and a peer review of the design prior to signing any contracts will help protect the investment, as well as a detailed service level agreement. This approach also gives the developer the upper hand in lease renewals. Relocating or replicating a data center is a complex, expensive process—and the developers know it. Similarly, because the data center development cycle typically last three to five years, pre-planning for the next facility or renewed lease will need to begin almost immediately, again, giving the lease owner more leverage.
As you can see, each of these options has its pros and cons, and their advantages and disadvantages clearly depend on individual project and owner needs and conditions. But understanding the options and how each can affect the end product will go a long way toward a success data center construction process and, ultimately, end product.
Terence Deneny is a vice president at Structure Tone and director of its Mission Critical division