Results from IDC's latest Quarterly Disk Storage Systems Tracker found that the flash market is continuing to cause tangible disruption to the enterprise storage market. In fact, results showed that the flash segment now officially accounts for half of total EMEA sales. flash storage systems recorded double-digit growth propelled especially by all-flash arrays, which grew 113% YoY in user value. So why is flash transforming the storage market? And what new technology now threatens to disrupt the market in the near future?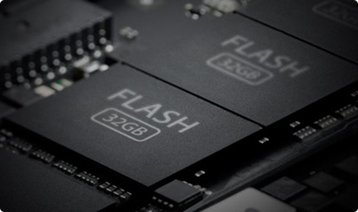 Businesses want to move their critical datasets to flash
Businesses originally started adding flash as an augmentation to the hard disk storage they already had, using flash as a tier or cache. The aim is to increase performance while keeping the total level of expensive flash storage to minimum, by reserving it for use on the most active data sets. However, this set up relies on complex processes to ensure the right data is kept in cache or on the tier. Therefore users are looking for ways to combine flash in a smarter and cost effective way.
Today, there is a rising appetite for companies to move their entire dataset onto flash to achieve high and consistent application performance. This is one of the major trends driving growth in the SSD market and is consequently driving the price down, making them more attractive and allowing broader deployment. Historically the businesses looking to achieve high levels of performance would need to buy lots of SSDs which would push the price point out of reach. It is now possible to buy at a lower price tag and get equivalent performance.
Despite the falling price, this type of solution is still only adopted by companies who can afford it, and reserved for a certain class of application as SSDs are still relatively expensive. Yet, although CapEX concerns continue to be at the forefront for businesses considering SSD, they also offer overwhelming OpEX value.
SSDs are charting their own course
Originally, SSDs were developed both to look and feel like HDDs. SSDs initially used SAS and SATA interfaces because it had worked well for HDDs, offering significant bandwidth, and it was simply more convenient to use this existing PC infrastructure. But SSD technology was capable of much more, and SAS and SATA reached an inevitable ceiling in their performance with SSD.
Recently, we are seeing PCIe increasingly embraced as an SSD interface in flash based solutions, which can promise better performance and lower latency than server-based SATA or SAS due to the direct connection. Realizing their potential, SSDs are now charting their own course, adopting a new interface to get more performance and utilize their form factor.
It is becoming increasingly easy to deploy flash
Today, most common enterprise software such as the latest versions of Windows and Linux have been optimized to support PCIe SSDs using the NVMe standards-based interface now included in operating system distributions. Businesses no longer have to buy proprietary drivers if the server runs Windows and Linux, which talk to flash fabrics directly.
Users can now place flash into the environment without the hassle and hand holding that it used to require as Windows computers will recognize it as a local storage device and start working straight away, making a more robust plug and play transition.
Flash uptake is driven by data center trends
Data center flash has come a long way. All-flash arrays – which are leading the flash market expansion, growing 113% year on year in user value according to IDC – offer a nice package. They offer simplicity, freedom to scale up service, consistent high-performance without cashing and tiering, and most importantly, a low TCO. They also play into a more general trend we are seeing towards reducing moving parts in the data center.
More specifically, SSDs growth has also been partially driven by the transition to the "3rd platform," a phrase coined by IDC to describe a number of trends in how the data center structure is delivered. Namely to use more standardized commodity blocks that help build flexible and scalable infrastructure, creating a more efficient cost effective way for running the data center.
Hyperscale companies like Facebook who pioneered the 3rd platform, have been using SSDs as that building block since their inception. IDC argues that whilst HDD technology is not designed for these use cases, SSDs are "a key enabling technology that is altering the overall storage landscape and making the third platform a reality." As the concept of the 3rd platform is embraced more broadly, consequently the demand for SSDs rises.
Looking forward
Looking forward, NVMe over fabrics, or "flash on the wire" are also going to become increasingly common. This form of externalized PCIe fabric networking is likely to be the future of networked all-flash arrays. Rather than placing flash into an old server, using flash fabric users can integrate flash technology into an environment that is directly connected, reducing network latency. NVMe standards are also coming for device management, so that multiple vendors can operate in the same way using centralized command and control.
Furthermore, a next generation of non-volatile flash based memory is on the horizon. Our PCM-based flash fabric solution is forward looking and signals the beginning of a new generation of new emerging memories with a performance that promises to supersede flash and approach DRAM in speed. In the next few years we expect to see these integrated into a new class of SSD which will offer even greater capabilities and enable the sophisticated new analytics of the future.
Flash adoption is soaring at an incredible rate. This is largely down to the flash market maturing substantially during the last few years and finding its feet: SSDs have moved away from its entwined history with HDD to take advantage of its potential speed and form factor making them more accessible and convenient.
Meanwhile infrastructure developments mean flash is more welcome in the workplace – no longer a complex hassle for the IT department, flash solutions can be up and running on the same day. Finally, overarching trends are steering the data center towards the 3rd platform and driving further desire for SSD. The flash flood is not going away and a wave of exciting new flash technology is already visible on the horizon.
Ulrich Hansen is vice president of SSD product marketing at HGST, a Wester Digital company.