Consumer and business demand for bandwidth is exploding. Smarter devices and increased mobile capabilities are driving the need for networking technologies that can deliver more bandwidth, allow business to react faster in real-time, and give consumers content at their fingertips. In response, next generation Passive Optical Network (PON) technologies are proliferating with XGS-PON (10 Gigabit symmetrical PON) and NG-PON2 (Next-Generation Passive Optical Network 2), providing a path to meet current and future needs.
The question now becomes: how can we ensure XGS-PON and NG-PON2 deployments are properly managed to deliver the best performance with minimal cost? A relatively recent breakthrough, robotic optical switching of Fiber-to-the-X (FTTx) networks, shows great promise. Let's dive deeper to see how these two trends resolve the bandwidth crunch.
What the next generation means
A PON system is a FTTx telecommunications network that broadcasts data through fiber optic cables. The network can be:
Fiber to the home (FTTH)
Fiber to the premise (FTTP)
Fiber to the building (FTTB)
Fiber to the node (FTTN)
Fiber to the curb or cabinet (FTTC)
PONs utilize passive optics such as unpowered splitters and filters, unlike an Active Optical Network (AON), which relies on electrically powered network equipment to distribute the signal like a switch or router.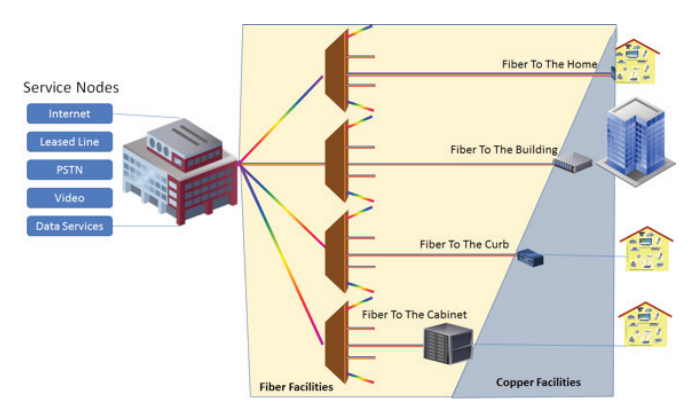 The new technology standards, XGS-PON and NG-PON2, both offer the ability to deliver bandwidth of 10Gbps, with NG-PON2 also capable of enabling Telcos to deliver up to 40Gbps with its utilization of multiple wavelengths. As bandwidth demands continue to grow, with Gartner forecasting that 20.4 billion connected devices will be in use worldwide by 2020, the ability to deliver 10Gbps is crucial for Telcos to provide the subscriber experience and necessary services their end users expect.
Being able to offer 10Gbps or more to an individual subscriber opens up new business opportunities such as G-mobile backhaul. However, for Telcos to obtain more out of XGS-PON and NG-PON2, an efficient way to manage the links within the FTTx networks is required. This is where robotic optical switching comes in.
The necessity of robotic optical switching
For those unaware, robotic optical switching manages the physical optical connections within a network. This enables operators to make their FTTx network dynamic and automate switching of connections, eliminating the manual upkeep that can become both time and cost prohibitive. As a result, Telcos can realize faster time to revenue, reduce provisioning times, and remote testing and troubleshooting, not to mention optimize Capex, minimize labor requirements during provisioning, eliminate database mismatches resulting from human error, and facilitate turn-up testing and maintenance.
Robotic technology that can quickly connect or disconnect a FTTx network connection physically introduces more security and manageability. The zero-touch provisioning that automated optical switches provide allow for provisioning of new subscribers without sending a technician into the field, allowing Telcos to pre-connect distribution fiber cables to the customer location during fiber installation.
To illustrate this, when it comes to provisioning a new subscriber, Provisioning Center based personnel would remotely issue commands that connect the splitter to the appropriate distribution fiber cable. The Telco then ships the Optical Network Unit (ONU) to the subscriber for self-installation, which the network auto-discovers as soon as it's connected to the network. This saves substantial costs of high-density applications, such as Multi-Dwelling Unites (MDUs), where entry rights are often difficult to obtain from landlords.
Ultimately, robotic optical switching maximizes reliability in maintaining FTTx connectivity through multiple subscribers, enabling XGS-PON and NG-PON2 increased network efficiency and addressing the growing bandwidth demands. For Telcos to lead the next evolution of value-added services, robotic automation must be an integral piece in XGS-PON and NG-PON2; otherwise network administration and service delivery costs will be exorbitant and the user experience too laborious.
Joseph Lias is technical Marketing Guru of Wave2Wave