In the Tom Cruise movie 'The Edge of Tomorrow,' humanity is confronted with a powerful new enemy that is able to adapt to our best available weaponry, and Cruise's character, Major William Cage, ends up re-living the same failed invasion every day, always meeting the same fate. But, in a twist of fate, Cage is able to learn from each day's failures and apply those lessons to create the next day's success, building to the kind of ending that Hollywood blockbusters have given us for 100 years.
'Edge of Tomorrow' is a science fiction film. It's also a gaming experience - Cage is essentially a character in a video game with multiple lives and the ability to play the game over and over until he masters it. And it is a story about how people solve problems and overcome challenges to make progress, often incrementally.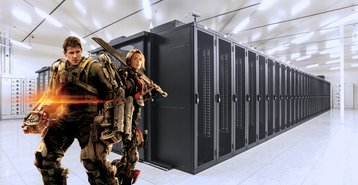 In business, one measure of progress is the recognition that, as companies and industries grow, they adapt and evolve, identifying new tools and strategies to become more productive, more efficient, and more responsive to their own customers.
There are countless examples of businesses recognizing that what might work today is not going to take them where they want to be tomorrow. The Edge of Tomorrow can also refer to the recognition that centralized databases and application servers introduce drag into businesses that are scaling rapidly, growing into new markets, and serving new customers. In these cases, the Edge becomes the enabler of reach, scale, and speed.
Two of the world's largest retailers might serve as examples here. One is the largest online retailer and the other is the largest physical retailer in the world. Both started out small, with one location, and enjoyed rapid growth. One location became multiple markets. One category of goods for sale grew to include categories like fresh food, with special distribution and proximity requirements.
As a result, one distribution center became two, then three, then four, all still assuming a centralized model, moving from a national view to a few regions, and evolving into a more distributed model, ultimately adopting an Edge view for selling goods more efficiently and marketing more effectively. Whether physical or online, it's about bringing goods closer to consumers, bringing supply closer to demand, data to compute, content to eyeballs, cloud to enterprises, just to name a few examples. In time, these retailers deployed dozens of warehouses and distribution centers in different sizes, for different needs. They applied the lessons they learned from one market, one category, to expansions that broadened their scale, but, more importantly, like the Edge, they moved their infrastructure – and their merchandise – closer to their customers and those customers grew to rely on the variety, the reliability, and the speed these businesses could provide.
Most recently, the 'online' retailer began opening bricks and mortar stores, while the 'physical' retailer has seen its online sales grow by nearly 75% in recent quarters. This was done as each company learned, evolved, and retooled to get closer to their customers, wherever they may be.
Another example of this phenomenon can be seen in the economics of the logistics business, once referred to as 'overnight shipping'. At one time, FedEx sent every package through its hub in Memphis. But as the company expanded, it learned that this model was impractical and inefficient for many packages, and adapted its logistics and processes to improve its speed, agility, and responsiveness, allowing it to grow faster, serve more customers, and deliver to more markets. In essence, it adopted an Edge strategy.
Success for companies like these is not strictly linear. And, if they were not smart and flexible about adapting to changes in technology and in the marketplace, what works perfectly in one year could have become an obstacle, slowing growth, introducing problems with customer service, and making it harder to enter new markets.
Businesses confront change every day. They adapt or they lose ground. And today, one of the biggest opportunities for service providers to accelerate growth – in cloud, content, network, gaming, IoT, AI, and more – is to adopt a smart Edge strategy. Serve key markets locally, and scale globally. Just be sure to use the Edge to strengthen your own customer relationships.
The Edge of Tomorrow, in this context, refers to a recognition that some businesses and business functions can define their Edge as regional or national deployments with a higher tolerance for latency. Other businesses and functions may require the lowest possible latency and require deployments in metro markets or in hyperlocal configurations.
Not every business is going to get these new configuration and reference architectures right the first time. They need to be able to adapt and fine-tune their strategies and rely on partners who can help them be as nimble and agile as possible, offering solutions spanning the entire spectrum of what the Edge can mean. Hyperlocal to Hyperscale.
It is important to note that many service providers will have multiple definitions of the Edge just within their own company. A cloud provider that offers enterprise applications, cloud gaming, video streaming, and AR/VR experiences will need to define the Edge differently for each of these services. But these different definitions do not operate in isolation; they combine to create a powerful infrastructure that can accommodate new business opportunities that may arise later this year, next year, or any time in the future.
The Edge is flexible, it is elastic, and it is responsive. And The Edge of Tomorrow will let businesses trial new strategies, adapt, course correct, and perfect their tactics to offer their customers services that promise speed, reliability, and security.
In a real sense, The Edge of Tomorrow is here today, and it is becoming the fabric of the Internet, giving smart businesses a platform that allows them to scale, while enabling them to be even closer to their customers and end users in ways that were never possible before.