The average power usage effectiveness (PUE) ratio for a data center in 2020 is 1.58, only marginally better than seven years ago, according to the latest annual Uptime Institute survey (findings to be published shortly).
PUE, an international standard first developed by The Green Grid and others in 2007, is the most widely accepted way of measuring the energy efficiency of a data center. It measures the ratio of the energy used by the IT equipment to the energy used by the entire data center.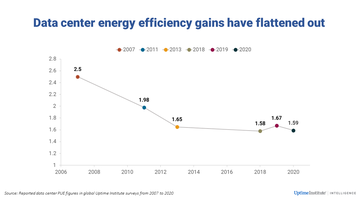 Aiming for 1.0
All operators strive to get their PUE ratio down to as near 1.0 as possible. Using the latest technology and practices, most new builds fall between 1.2 and 1.4. But there are still thousands of older data centers that cannot be economically or safely upgraded to become that efficient, especially if high availability is required. In 2019, the PUE value increased slightly, with a number of possible explanations.
The new data (shown in the figure) conforms to a consistent pattern: Big improvements in energy efficiency were made from 2007 to 2013, mostly using inexpensive or easy methods such as simple air containment, after which improvements became more difficult or expensive. The Uptime Institute figures are based on surveys of global data centers ranging in size from 1 megawatt (MW) to over 60 MW, of varying ages.
As ever, the data does not tell a complete story. This data is based on the average PUE per site, regardless of size or age. Newer data centers, usually built by hyperscale or colocation companies, tend to be much more efficient, and larger. A growing amount of work is therefore done in larger, more efficient data centers (Uptime Institute data in 2019 shows data centers above 20 MW to have lower PUEs). Data released by Google shows almost exactly the same curve shape — but at much lower values.
Operators who cannot improve their site PUE can still do a lot to reduce energy and/or decarbonize operations. First, they can improve the utilization of their IT and refresh their servers to ensure IT energy optimization. Second, they can re-use the heat generated by the data center; and third, they can buy renewable energy or invest in renewable energy generation.