In the race to data center energy efficiency and greater cost control operators are balancing the surging demand for processing power, work load virtualisation and consolidation, while concentrating on various elements that offer possible key efficiency and cost reduction possibilities.
Proper data center efficiency goes beyond achieving energy savings, it depends on careful planning and cost-effective choices, Data center efficiency involves gaining the most out of the power distribution system, computing hardware, network and storage systems while minimising the power, cooling and space requirements for the infrastructure.
Thermal issues that were once ignored now must be addressed to assist cost reduction and increase capacity:
Mixing hot and cold air – results in a loss of cooling effectiveness
Leakage – unintended hot/cold airflow paths
Hot air recirculation – exhaust is pulled back into equipment inlets
Airflow obstructions – increased resistance to IT equipment fan airflow
Containment and Control is an element in the strategy to improve the efficiency of data center cooling systems by isolating either the heat produced by IT equipment (hot aisle containment) or the cooling provided to the equipment (cold aisle containment). Together with new monitoring and control systems, data center managers can optimise energy utilisation across the whole environment.
According to recent surveys growing numbers of data center operators are utilising either hot or cold aisle containment is some form, with higher uptake within larger installations (more than 5000 servers) at around 86%, compared with 73% of datacenters with less than 1000 servers.
A previous criticism of containment installations was their inflexibility. Designed and deployed for specific environments, which provided little scope for expansion. Also most were designed for use with single source equipment racks, and so again reduced the operator's equipment flexibility, especially if providing colocation or customer supplied equipment.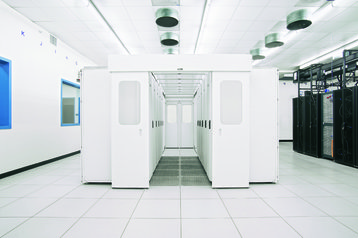 As a developer of integrated data center offerings, ranging from cabling and connectivity products to advanced unified systems that span power, security, communications and DCIM software, Panduit created the market for preconfigured optimised racks and modules. With the acquisition of SynapSense, the company now offers one of the industry's broadest DCIM portfolios and so has an end-to-end infrastructure solution to one of the key requirements in data center efficiency.
Data center operators can reduce cooling costs by up to 40% through the use of containment architectures. While once achieved, monitoring and dynamic control ensures optimum cooling across the site.
Types of Containment Systems
There are primarily two types of air containment systems: cold air containment and hot air containment. Both types of containment system offer advantages over the standard Hot Aisle/ Cold Aisle (HA/CA) configuration. Containment systems work in both raised floor and slab cooling environments.
Cold Aisle Containment (CAC)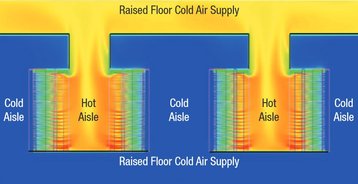 Cold Aisle Containment (CAC) provides a physical separation between the cold air and the hot exhaust air by enclosing the cold aisle. A CAC system such as Panduit's Net-Contain Cold Aisle Containment System facilitates the supply of cool air to equipment air intakes at a uniform temperature. It offers a focused cooling approach where the equipment air intake air temperatures are close to the supply air temperature. However, it also generates a high room ambient temperature, exposing workers to higher room temperatures.
Hot Aisle Containment (HAC)
Hot Aisle Containment (HAC) provides a physical separation between the cold air and the hot exhaust air by enclosing the hot aisle. The goal of a HAC system is to capture all of the cabinet exhaust air and return it to the cooling units. The rest of the room outside the HAC becomes a cold room with ambient air temperature close to the supply air temperature.
Vertical Exhaust Duct (VED) Chimney Cabinets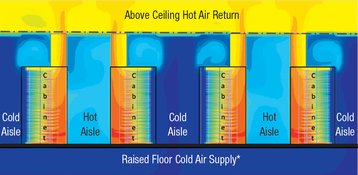 The primary goal of a VED system is to contain cabinet exhaust air and prevent mixing of cold and hot air streams in the data center room. The VED system captures and channels the cabinet exhaust air to a drop ceiling plenum. This approach requires addition of a solid rear door and the exhaust duct for each cabinet that connects to a drop plenum or opens up high above the cabinet. This technique allows the room ambient temperature to be maintained close to the supply air temperature.
Similar to HAC system, VED system also results in a room ambient air temperature close to the supply air temperature. However, the VED offers a cooler environment for anyone working in the hot aisle when compared to the HAC system.
The importance of sealing cabinets
Containment systems require proper cabinet sealing and proper cable management solution. Any leakage within the cabinet and poor cable management may adversely affect the performance of the containment solution. The latest range of cabinets contribute to improved network reliability by providing space and integral cable management features that allow data and power cables to be routed away from equipment air flow, eliminating obstructions that inhibit efficient cooling. The frame design of the cabinet enables both open rack accessibility to cabling equipment, as well as large pathways to enable future growth for the data center.
With the options available data center operators can implement a dynamic DCIM solution to provide a three stage maturity and control system. Utilising a powerful thermal risk management and cooling energy solution operators can reduce risk and maintain resiliency through a highly reliable mesh networking technology, airflow optimisation services and manual or automated cooling control. Providing wireless monitoring and dynamic cooling optimisation, the system provides visibility to enhance environmental consistency and help data centers save up to 50% of cooling energy costs per year.
Stage 1: Monitoring - Instrument baseline and trend data gathering. Install wireless sensors (temperature nodes, pressure nodes and wireless gateways), across the site to ensure optimal environmental monitoring and graphical visualisation.
Stage 2: Optimisation – Improve airflow management, dynamically maintain the optimised state of the data center by monitoring: server inlet temperatures, Delta T across CRAC units, humidity and calculate dew points, subfloor pressure differentials.
Stage 3: Active Control – Align HVAC control and dynamic matching cooling to data center IT load. Temperature Control Loop – measures temperature at the rack device inlet position to precisely manage the CRAH temperature set points to save cooling energy costs whilst maintaining optimum cooling requirement. Pressure Control Loop – measures subfloor air flow pressure to precisely manage VFD fan speeds and deliver exact cooling air flow volumes to locations required. Combines to increase reliability, operational efficiency and reduce costs.
Conclusion
The massive surge in data center usage to facilitate IoT, Big Data and cloud requirements, illustrates the need to gain control of the cooling architecture variable which can have major negative impacts if left unchecked.
A containment system reduces the overall cooling energy cost by preventing or reducing the mixing of cold and hot air streams, and stops leakage contamination. It also offers a significant opportunity for cooling energy savings regardless of its type or the type of cooling system used. This is due to the increase in allowable supply air temperature and an increase in return air temperature. The progressively higher supply air temperature and return air temperatures that can be achieved by using a CAC system and then a VED system, and ultimately a 100% contained version of either, leads to increased savings.
The Panduit cold air containment (CAC) system isolates the cold supply air from the hot equipment exhaust, preventing hot air recirculation and effectively reducing energy costs, thereby contributing to the overall effectiveness of data center operations.
These containment systems enable Panduit cabinets to manage high thermal loads while optimising data center cooling capacity and capital costs. Both systems are completely passive, with no moving parts that consume energy or require maintenance, improving network reliability and efficiency.
The use of dynamic cooling and control within this environment enables the data center operator to increase the management capabilities and therefore the efficiency and savings available. Moreover, they provide an environment with increased flexibility and agility, allowing data center operators to plan for change and adapt more easily to the evolving needs of the marketplace.
Michael Adams is director of Integrated Data Centre business in EMEA at Panduit.