For organizations aiming to save costs, become more agile and make performance improvements, cloud seems to offer many compelling benefits, at least on the surface. The original aim of public cloud services was to provide a cost-effective and simple alternative to customers hosting their services within their on-premises data centers. And while some enterprises have held back, being cautious in handing over control of their mission-critical infrastructure to a third party, many gave in to the 'cloud rush' mentality, only to be faced with hidden costs and vendor lock-in, resulting in these organizations later repatriating workloads back on-premises.
According to IDC's latest Cloud Adoption Survey, 85 percent of organizations have migrated some cloud-based applications back in house. Migrating applications to the cloud is relatively easy, but it is a lot more difficult and costly to get them back out again.
Deploying in the public cloud in its current structure is not cost-effective, with wasted services and the lack of right-sizing capabilities also being key drivers for repatriation according to a cloud adoption survey by NetEnrich. 59 percent of IT decision-makers cited spend and cost overruns as a big concern in 2019. The same survey revealed that 35 percent of the projected $206.2 billion dollars to be spent on public cloud in 2019 is likely to be wasted. While 40 percent of AWS resources are believed to be over-allocated (or underutilized).
As cloud adoption has matured, and the reality of utilizing services that may not be the best 'fit' for their business has become more evident, the 'cloud-first' strategy that was so prevalent in the initial adoption phase has given way to the acknowledgment, or rather the necessity, for organizations to become 'cloud smart'.
Reasons behind escalating public cloud costs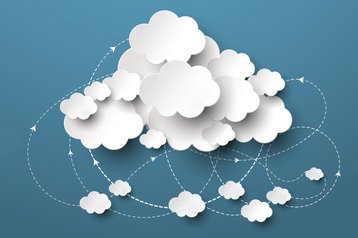 The numerous factors that contribute to escalating cloud costs often go overlooked due to the complexity and risk associated with tackling them properly. For example, the task of right-sizing resources is often left until absolutely necessary, as adjusting capacity allocations without thorough analysis could cause performance issues that can impact customers.
Achieving the public cloud promise
There is a way to attain optimum utilization of cloud services, be it hybrid or multi-cloud. This outcome can be achieved through a methodology that is ideally suited to the unique demands and goals the individual business and its success lies in various dimensions of decision making, planning and analyzing public cloud deployment strategies, prior to migration.
There are five key stages involved in effectively handling cloud cost management:
Bill analysis - catching and preventing end-of-the-month surprises
Idle resource analysis - discovering wasted spend that is safest to remove
Monitoring - detecting performance bottlenecks before users do
Right-sizing - addressing over-allocated resources and planning for auto-scale
Planned purchases - striking a balance between deep savings and infrastructure agility
Billing analysis
The analysis stage is key to avoiding end-of-month surprises and can be successfully achieved through the foundational task of indexing and benchmarking your environment. The utilization of metadata such as attributes and tags aid in exploring dimensions in granular detail, comparing spend with previous periods, and saving scheduled emailed reports. Ideally, filtration of those results by conditions such as percentage of change over time and the ability to detect sudden fluctuations in any sub-category are helpful capabilities in this phase. Time can also be saved by automating management reporting instead of constantly checking the cloud host console for changes in spending.
Idle resource analysis
Armed with an understanding of overall cloud spend through billing analysis, costs can start to be saved. Sourcing and organizing idle resources into actionable workflows (such as archival or termination) is the easiest way
to capture savings and reduce the total public cloud bill. The ability to keep track of unused resources across development, testing, and production environments will provide intelligence as to any resource that has recently gone idle before any further expenditure is made.
The benefits of monitoring in the public cloud
Monitoring cloud-based applications allows organizations to catch performance slowdowns before they affect their customers, thereby avoiding any issues on services and transactions. Organizations should check that public cloud monitoring capabilities include automated alerting based on machine-learning and preset policies with the ability to create bespoke multi-conditional custom policies. Another benefit of public cloud monitoring is that any right-sizing decisions and changes can be made with full confidence.
Capacity planning (right sizing)
This is perhaps the most complex phase, as effective right sizing requires real-time measurement and aggregation of resource utilization and product knowledge that contextualizes the workloads within an organization's infrastructure.
Right-sizing capabilities allow organizations to tune their over-allocated resources to make significant savings on their cloud bill, while also allowing the scaling of resources up to match workload growth. The ideal resource settings based on business requirements should also be made before making any long-term reservation commitments.
The ideal public cloud monitoring right sizer will provide intelligence on the thousands of available and ever-expanding list of configurations for cloud-hosted resources, with the ability to determine saving potential. The complexity of this task can also be reduced with recommendation tools, which enable opportunities to optimize and savings to be easily identifiable.
Purchase planning
Purchasing reserved instances in the cloud opens up savings opportunities across the linked accounts within an organization's portfolio, although reservation planning tends to be considered a daunting task. But planning reservations is a much easier undertaking once the other four stages of cost management have been followed. For example, purchasing reservations should only be carried out after resources have been right-sized or when there has been confirmation that they are optimally configured. This can be achieved by first isolating an area of infrastructure using tags and attributes and then reservations may be gradually purchased over time.
Reservation planning allows enterprises to measure their on-demand and reserved utilization on an hourly basis instead of daily averages. It allows visibility of reservation usage at an instance-level by filtering, sorting, and grouping by meta-data and avoids over-buying reservation skewed by usage during peak hours. The end result is an environment with properly scaled resources capable of maximizing the reservation portfolio to deliver the optimum balance of cost and infrastructure stability.
Enterprise businesses taking these five strategic cloud cost management steps will be making an empowering transitional shift in the management of their public cloud services. The result is that visibility and control is effectively handed back into the hands of the organization, reducing the cost and risk of managing hybrid and multi-cloud environments. With this, previously unforeseen bottlenecks and financial waste commonly associated with the public cloud can be completely avoided, along with the over-allocation or under-utilization of resources. By embracing a robust 'cloud smart' strategy, organization can finally realize the benefits of the original public cloud promise.