There has been ongoing talk since 2002 that high power density data centers would replace low power density data centers. The theory is that a higher density will increase efficiency while reducing energy bills, however, with these benefits also comes the risk of cooling failures.
Today, a data center where each cabinet consumes more than 10 kW is considered high power density. The density can also be measured by the amount of energy consumed per square foot, which is why many high power density data centers are built up rather than out. As rack densities continue to grow, data center manufacturers and designers are having to come up with more efficient cooling solutions to offset energy consumption.
The traditional data center design is unable to cool these higher density data centers, which has led to the development of cooling solutions, such as: CRAC units; racks featuring water-chilled, rear-door cooling units; and aisle containment structures. Unfortunately, more often than not, simply expanding an infrastructure and adding CRAC units (large computer room air conditioners), is not enough. Rear-door, cooling units and hot and cold aisle containment structures are the most popular and efficient cooling solutions.
Effective airflow management is a successful solution that prevents a data center from overheating, while also being cost-efficient. A rear-door, cooling unit utilizes liquid cooling technology to exchange hot air for cold air. The rear door holds cold water in a closed loop system, which offsets the heat generated by higher density racks. Basically, it is an air exchanger that requires no fans or moving parts.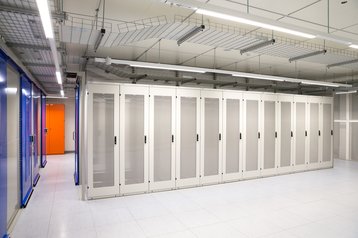 The aisle containment structure is a prefabricated system that incorporates all the components of aisle containment design into a freestanding unit. It is comprised of a base unit frame that is an aisle containment platform and is used for cabinet anchoring. Both hot and cold aisle containments will help improve the efficiency of a data center's traditional cooling system. Unlike the rear-door, cooling unit that exchanges hot air for cold air, hot and cold aisle containment structures minimize the amount of hot and cold air that mixes together.
A cold aisle containment's purpose is to contain cold air, while keeping hot air out. This is done by installing end of row doors, aisle ceilings or overhead vertical wall systems, which allows the cold air to be directed into the air intakes of the servers.
Hot aisle containments are the rows in which the servers pour heated exhausts. Like a cold aisle containment, a hot aisle containment's role is to prevent cold and hot air from mixing, however, hot aisles face the air conditioner ducts and send hot air through to be recycled into cold air.
As the data center industry continues to explode with the ever-increasing demand for more data, high power density data centers will continue to grow in popularity. Operation managers are now tasked with reducing power consumption and increasing efficiency. Having a high power density data center increase performance and output, but also having an efficient cooling system in place with greatly reduce a company's energy bill.
Erich Hamilton is director of engineering at DAMAC, American manufacturer of racks and cabinets.