London is one of the largest data center hubs in the world. Data centers in London account for more than a million square meters of white space and require more than 1 GW of power.
Much of the city's success in this industry is due to its status as a major center of and finance. One in every five of Europe's largest 500 companies is headquartered in London, and 75 percent of Fortune 500 companies have offices in the city. London is one of the world's largest financial centers: It has the largest stock exchange in Europe and is the largest center for derivatives, foreign exchange, international debt securities, money markets and bank lending worldwide.
These strengths have helped attract data center investment, and London's data center asset base is diversifying beyond finance.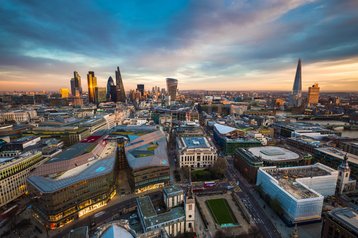 Major concerns
But like most major hub cities, London faces concerns about power and real-estate availability. As one of the most expensive real-estate markets in the world, finding viable data center locations is increasingly difficult. Power is also a concern as swelling demand exceeds existing supply, while there is increasing emphasis on sustainability and green power, and attitudes towards nuclear energy are changing.
In recent years, data centers have been constructed in areas outside London's M25 motorway. Colocation providers have been able to overcome initial concerns about latency and connectivity (at least for some applications and customers) and leverage lower costs, cleaner & cooler air and other benefits of location outside a congested urban area. But data centers have a long list of requirements, such as good transport links, easy planning permission, connectivity and power. Locations that can meet these needs are rare no matter where providers go.
Power pricing and availability are also challenges. Wholesale power is generally cheaper in most European countries but after taxes London costs less than some places.
London's gravitational attraction is such that most companies won't migrate
Power availability is more of a concern. The UK is a net importer of electricity, consistently generating less than it needs. And more power plants are expected to close in coming years. Still, contingency measures have been put in place by the National Grid. Providers we spoke with were certainly concerned about a power shortfall, but didn't see it as a sufficient threat to influence business planning today. This might change if there are problems provisioning power, or substantial power cuts, but essentially power supply is seen as "too big to fail" for the entire UK economy.
Continued attraction
Competition from other cities is also an issue, and Amsterdam especially offers a competitive proposition. But again, the greater commercial gravitational attraction of London makes it unlikely that companies will migrate in substantial numbers. However, we do see a "multitier application structure" developing , and less latency sensitive applications could move to more remote locations such as the Nordics, to gain abundant space, free air cooling and green energy.
Overall, our research found that London remained strategically important for enterprises across the board, and is unlikely to lose its leading position in data centers.
For our Metropolitan Hub: London report, contact [email protected]