Not long ago, it was fashionable to predict that the public cloud would take over the world and other IT infrastructure would wither away. If anyone still clings to this prediction, they do so in spite of mounting evidence to the contrary.
Today it's clear that the world is embracing hybrid multi-cloud strategies. Most enterprises will use public clouds, but as a 2018 IDC survey illustrated they believe that more of their applications belong in a private cloud than in a public cloud - by a factor of 2:1.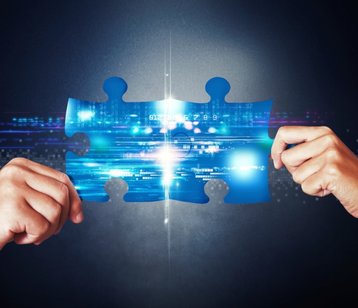 Repatriating workloads
That same IDC report highlighted substantial "repatriation" of workloads from public clouds back to private environments, a trend Flexential dubbed the "Boomerang Effect."
As Mark Twain might have said, the rumors of private cloud's death have been greatly exaggerated.
Now the question is not whether to embrace a hybrid multi-cloud strategy, it's how.
For enterprises, how can private and public cloud infrastructure work together optimally for a variety of applications and workloads?
For hosting and colocation providers, how can they position themselves to help enterprises create their hybrid multi-cloud infrastructure?
There are many answers to those questions – one size does not fit all – but an intriguing pattern is emerging.
The data-centric multi-cloud
First, one crucial observation: Data is King.
Data is the greatest asset of the digitally transformed enterprise. Data is also a target for competitors and hackers, and a focus for all sorts of regulatory bodies. Enterprises naturally put a high priority on keeping their data close and secure and that makes them reluctant to put data in a public cloud. What's more, data in one public cloud can't easily be used by applications in other clouds and migrating data from one cloud to another can be quite painful, not to mention costly due to "egress fees" charged by public clouds. For maximum control and multi-cloud flexibility, enterprises need to keep their data in a private environment.
But that doesn't mean they can just keep it in the basement, far away from the public cloud. When an app in the cloud needs some of that data in the basement, latency goes up, user experience goes down and users go away.
For some of the most forward-looking enterprises, the solution is to move data (any many applications) to a location with direct low-latency cloud connections – but keep it in a private environment for full control. That's where hosting and colocation providers come in.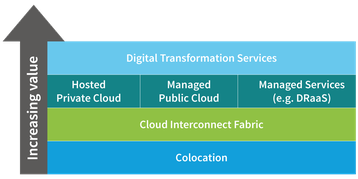 The hybrid multi-cloud value chain
Some larger enterprises may choose to setup their own private cloud in a colocation environment. Others will choose a cloud service provider (CSP) to deliver a hosted private cloud service, benefiting from the CSP's IT competence and shared infrastructure economies of scale. Colocation providers can cater to both enterprises and CSPs with some common capabilities.
As shown in the figure, the foundation of the hybrid multi-cloud value chain is a high quality colocation environment. This is where many colo providers stop today, leaving the rest of the value chain to others. The colo provider recruits connectivity providers, including traditional carriers, dark fiber providers and cloud interconnection specialists such as Megaport, but doesn't provide any cloud interconnection services.
However, many colo providers would like to move up the value chain to improve their competitiveness and profitability. The next logical step in creating more value is to create a cloud interconnect fabric that makes it simpler and more efficient for private clouds to connect to public clouds and "X" as a service (XaaS) providers. By now, most of the large colocation providers have launched software-defined cloud connectivity services. Digital Realty's recently announced acquisition of Interxion and its prior TelX acquisition were motivated in part by the need to enhance interconnection services for the hybrid multi-cloud world.
While the big providers have already made their moves into cloud interconnect, plenty of others have not, and many of them are not sure how. It's simply not feasible for most to hire a large team of network engineers and duplicate the investments of someone like Equinix to build a customized software-defined networking (SDN) platform.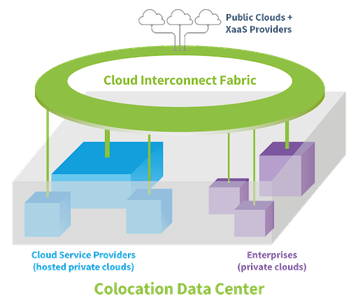 Building a cloud interconnect fabric
The good news is, they don't have to. Unlike early implementations, leading data center SDN solutions now deliver enterprise-grade reliability and out-of-the-box automation, network virtualization and analytics that make it much simpler to build and operate a cloud interconnect fabric.
The most basic cloud interconnect fabric provides connectivity within a single data center site (see figure). Enterprises and cloud service providers each connect to the fabric at a suitable port speed, e.g. 10G or 100G, and then have the ability to make software define virtual connections to any connected public cloud or XaaS provider.
One key requirement for the fabric is layer 2 service transparency, enabling private-to-public cloud connections with no limitations on VLAN assignments, as if directly connecting over a cross-connect.
To make the fabric scalable while maintaining complete service transparency, the industry best practice is to build a layer 3 leaf-spine underlay network and then create a virtualized network overlay using a technology such as VxLAN. To simplify the job, some SDN solutions combine both underlay and overlay automation into a single software package.
Cloud interconnect fabrics become even more valuable if they can be stretched across multiple data center sites (see figure). Direct cloud connections are only available in a small subset of colocation facilities around the world, and not all clouds are in the same sites. With a multi-site cloud interconnection fabric, every tenant has direct access to any cloud or service provider in any site as if they were physically colocated in the same site. That substantially increases the value of every site in the fabric.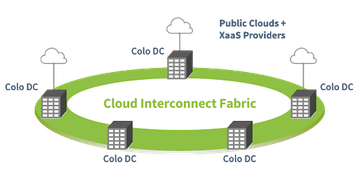 For a smaller colo provider, creating a multi-site fabric may seem daunting, and in fact, many SDN approaches do not scale well outside a single data center, leading to prohibitive complexity and cost. Fortunately, there are solutions that scale effectively across any underlying wide area network and enable simple, automated fabrics with transparent layer 2 services spanning multiple sites.
The hybrid multi-cloud future presents great opportunities for colocation providers who position themselves effectively. Moving up the value chain by creating a software-defined cloud interconnect fabric will enable smaller providers to compete effectively with larger providers and increase the value of their data centers. The technology is ready, so the time is now to get started.