Last week's deal between Amazon Web Services (AWS) and VMware signals the eventual end of in-house data centers. But maybe not in our lifetime. 
After years when their positions were poles apart, Amazon's Andy Jassy and VMware's Pat Gelsinger stood up to announce a truce. Amazon has always maintained that no-one needs to have on-premises data centers because the AWS cloud can do it all. Meanwhile, VMware, since it owns almost all the virtualization in those on-prem facilities, has steadfastly said there's no mileage in trying to move it all to the Amazon cloud - because you don't get those VMware tools to manage your resources there.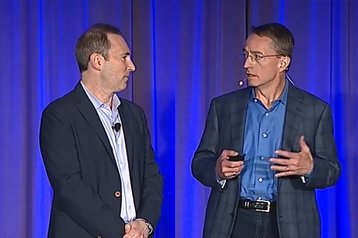 Admitting that hybrid exists
Faced with on-premises and public cloud, most companies (IBM and Microsoft, say) have opted to promote hybrid cloud, which combines the two, using public cloud for tests and short-term bursting, for instance.
But as the two giants in the respective worlds of public cloud and on-prem, Amazon and VMware have had spectacularly weak stories to tell on hybrid cloud. Amazon has said you can't manage it all with the same tools, and VMware has said you have to have it all on clouds that VMware approves of and partners with. 
Those entrenched positions are now gone, as both have accepted hybrid. Amazon is allowing VMware to put all its services natively on the AWS hardware. And, in accepting the invitation, VMware is admitting that it can't control what public cloud people want to use. Customers are all putting stuff on AWS anyway, so VMware might as well make sure that the stuff there is actually running VMware software.
This could finally lead to the long-heralded end of the in-house data center. But not anytime soon
Assuming the two companies can deliver this in practice, it will reduce the barrier for enterprise users wanting to combine workloads in-house and on the cloud. Customers will be able to build both parts of their cloud  using the same VMware tools. They should also be able to move workloads between the two using VMware's vMotion.
And if they want to set up shop in new regions, they can move existing IT infrastructure there onto local AWS regions.
In other words, the doors on the enterprise data center will be opened, and workloads can migrate to where they operate best.
In-house will remain 
There's still going to be reasons to keep things in-house, of course, such as latency, data location and tradition. But both CEOs agreed it will allow a lot of IT workloads to move out of their former cages.
The net result could be a virtual halt on new on-premises data center building. If you need a new resource, just put it in the cloud and see how it goes. Consolidation, meanwhile, is likely to gradually move workloads away from inefficient in-house capacity.
So yes, this could finally lead to the long-heralded end of the in-house data center. But not anytime soon.
Pat Gelsinger of VMware says hybrid cloud (and therefore on-prem) will be around for decades. And the fact that AWS has finally accommodated VMware and its hybrid ideas is a sign that Amazon has accepted this. 
A version of this story appeard on Green Data Center News