With many new applications on the horizon designed to support 100G and 400G Ethernet, we anticipate a dramatic increase in bandwidth and data volume. Data centers supporting these applications will require greater flexibility in order to adapt to emerging changes.
In April 2015, the Institute of Electrical and Electronics Engineers (IEEE) published a new standard (IEEE802.3bm) which defined requirements for 100GBASE-SR4. The new standard reduces lane count from 10 lanes at 10GbE to 4 lanes at 25GbE, requiring only 8 total fibers instead of the 20 needed for 100GBASE-SR10. Some switch manufacturers have already announced availability of transceivers capable of meeting the new standard requirements.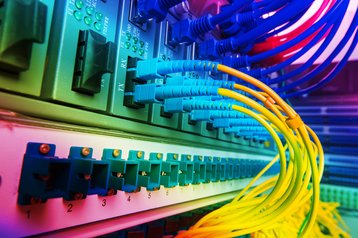 If you have to upgrade…
Recent trends suggest using an 8-fiber-based MTP system. These systems claim to support easy migration to 40G, 100G, and 400G, with 100 percent fiber utilization. However, to move forward with this type of migration solution, data center managers would need to rip out their existing cabling infrastructure and replace it with a proprietary 8-fiber-based system. Investing in a brand new cable infrastructure is a costly endeavor, and many data center managers are hesitant to make that level of commitment.
A better solution would be to install a cabling infrastructure system capable of providing data center managers with the flexibility to meet their current needs, while retaining the ability to change and adapt to higher-speed applications as they emerge without replacing their entire cabling infrastructure.
In January 2011, Leviton introduced the Opt-X Unity 24-fiber MTP-based system. Designed to support 40GBASE-SR4 and 100GBASE-SR10 applications, as defined in IEEE802.3ba (published in June 2010), the system offers the flexibility to adapt to higher-speed applications without replacing an entire cabling infrastructure. Since that release, Leviton has continued to develop innovations to support easy migration to 10/40/100G transceivers; use 2, 8, 20, and/or 24 fibers to provide 100 percent fiber utilization; provide maximum flexibility in today's network architectures; and offer higher density with fewer trunk cables required.
Recent initiatives include working closely with Berk-Tek to expand the benefits of Opt-X Unity. Now, Leviton Unity fiber trunks are offered with patented Berk-Tek Micro Data Center Plenum (MDP) cable, the smallest diameter cable on the market. This improvement offers greater density with better cable management, smaller pathway requirements, and enhanced airflow. And in May 2014, Leviton and Berk-Tek introduced their Violet OM4+ system, providing a solution to support 40G and 100G up to 300 meters, twice the IEEE802.3ba 40/100G maximum.
Leviton 24-fiber MTP systems have been deployed by many large, web-scale data centers to support 40GBASE-SR4 installations. Those data center managers are already prepared for future migrations based on the 25G laser for 100G and 400G. Because they decided to invest in a solution developed by a forward-thinking manufacturer, they will be able to make the transition to higher bandwidths without any of the costs, hassle, or downtime associated with ripping out their existing infrastructure.
As new trends emerge that require greater bandwidths, more 100G and 400G transceivers are expected to be introduced. For data center managers, it will be critical to maintain their investment in their cabling infrastructure while having the flexibility to support these new applications.
One step isn't enough

 A 24-fiber cabling system will not only meet current bandwidth requirements, but will also provide the flexibility needed to meet any future network demands, including 100G, 400G, and beyond. And with 100% fiber utilization at a higher density, the Opt-X Unity System facilitates easier cable management, reduced pathway requirements, and improved airflow to provide greater return on infrastructure investment.
If you are interested in learning more about data center cabling systems register now to our next webinar.