Yotta Infrastructure has announced that its Yotta NM1 data center in Panvel, near Mumbai, has been awarded the Uptime Institute Tier IV Certification of Design Documents (TCDD). According to Yotta, it is the largest data center in Asia with this certification.
The large multi-story facility is spread across 820,000 sq ft (76,180 sqm) and offers 7,200 racks and 50MW power. This is also located in an 18-acre plot of land that will eventually grow to a campus of five data center buildings.
In response to a query from DCD, Sunil Gupta, managing partner and CEO for Yotta, explained that the team has already completed commissioning activities and was initiating testing activities around mid-March when lockdowns around Covid-19 put a freeze to everything.
"We were able to [restart] our works over the last few weeks, and shall now be able to complete all testing and other finishing related activities in next two to three weeks to go live commercially by mid-June to deliver services to our anchor customers," said Gupta to DCD.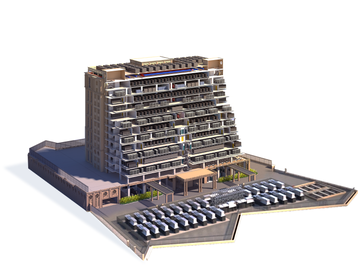 Building against the odds
The team is also moving forward immediately with the Uptime Institute Tier Certification of Constructed Facility (TCCF), says Gupta, which is expected to be completed and earned over the "next few weeks."
The tight timeline between TCDD and TCCF can be partly attributed to the "grueling" 10 months that it took to achieve the former. While a decision was made from the get-go upon the starting of Yotta as an organization in April 2019, the scale of NM1 called for some unusual decisions to meet the team's aggressive launch schedule, Gupta explained to DCD.
Specifically, the decision was made to procure equipment and commission various MEP services in parallel with Uptime's multistage certification review process. The team also had to convince assessors that its innovative design was viable, and various custom equipment were procured to meet gaps identified by Uptime.
Having the TCDD certification process and construction happening in parallel does have the advantage of reducing the time gaps between TCDD and TCCF, however. Gupta summed up: "Since construction of every single aspect of the facility has been done exactly as per the Tier IV certified design, we expect the TCCF process to be completed and certification received in a very expedited timeline."
"For the design for Yotta NM1 to achieve the Uptime Institute Tier IV Certification of Design Documents, while still keeping the space usage and overall costs at an optimized level, required an out of the box design approach," said Martin McCarthy, the chairman and CEO of Uptime Institute.
"Yotta achieved this milestone by implementing a truly unique and innovative design and engineering. This is most impressive. We congratulate Yotta Infrastructure on this rare achievement, for not only the largest data center designs in India, but one of the largest Uptime Institute Tier IV Certification of Design Documents to be awarded worldwide – ever."