US chip developer Xilinx, best known for inventing the field-programmable gate array (FPGA), has unveiled a new product category called adaptive compute acceleration platform (ACAP).
The company claims ACAP will enable data center servers to be highly programmable, with significant increases in performance. Xilinx said that the new hardware is suited for a broad set of applications, including video transcoding, database administration, data compression, search, AI inference, genomics, machine vision, computational storage and network acceleration.
The first ACAP product family, codenamed Everest, will be developed with TSMC 7nm process technology and will tape out later this year, actually shipping to customers next year.
Creating Everest took a billion dollars, 1,500 engineers and four years of research, and the company expects it to achieve a 20x performance improvement on deep neural networks compared to the 16nm Virtex VU9P FPGA.
Beyond the FPGA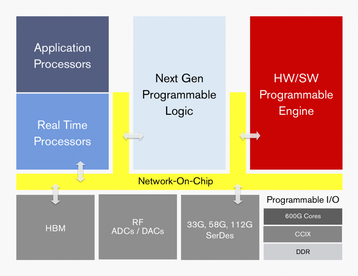 "This is a major technology disruption for the industry and our most significant engineering accomplishment since the invention of the FPGA," Victor Peng, president and CEO of Xilinx, said.
"This revolutionary new architecture is part of a broader strategy that moves the company beyond FPGAs and supporting only hardware developers. The adoption of ACAP products in the data center, as well as in our broad markets, will accelerate the pervasive use of adaptive computing, making the intelligent, connected, and adaptable world a reality sooner."
An ACAP is made up of a new generation of FPGA fabric with distributed memory and hardware-programmable DSP blocks, a multicore SoC, and one or more software programmable and hardware adaptable compute engines, connected through a network on chip (NoC).
Patrick Moorhead, founder of Moor Insights & Strategy, added: "This is what the future of computing looks like.
"We are talking about the ability to do genomic sequencing in a matter of a couple of minutes, versus a couple of days. We are talking about data centers being able to program their servers to change workloads depending upon compute demands, like video transcoding during the day and then image recognition at night. This is significant."
The announcement of ACAP came as Xilinx's CEO Peng, who took over in January, unveiled the company's new strategy: "Data center first."
He said: "While FPGA and Zynq SoC technologies are still core to our business, Xilinx is not just an FPGA company anymore… We are taking this innovation to the next level with the invention of the ACAP where we will deliver even more value to the data center and our core markets now, and into the future."
Peng told DCD about his plans in detail at an ACAP launch event earlier this month - the interview will be featured in the upcoming April/May issue of DCD Magazine. To read it, be sure to subscribe for free to the print or digital edition below: