Intel has announced the availability of a Xeon processor family that can feature up to 22 cores, as part of its Cloud for All initiative. The E5-2600 v4 chips are the first to fall within the company's Scalable System Framework (SSF) which it has claimed will "provide the balanced computing solutions to help solve the next phase of industry and research challenges".
The E5 v4 range also sees the company's Broadwell core architecture entering the mainstream server segment, offering support for faster memory (2.4GHz DDR4) and Hyper-Threading – which works out at two threads per core. As the chips have been exclusively designed for dual-socket servers, this brings a powerful 88 simultaneous threads of code into the fray.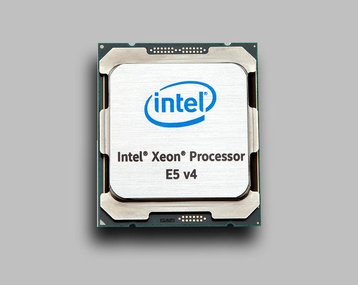 More power, less power consumption
The aim of the new iteration of CPUs is to make software defined infrastructure (SDI) transition more appealing and manageable by allowing increased performance across the broad range of workloads involved. This has led to other innovations in the architecture, such as Turbo Boost Technology to improve performance when running mixed AVX (Advanced Vector Extension) workloads. It takes advantage of the available power and improved thermal headroom to increase processor frequencies.
The new Xeons offer improved support for cloud computing and virtualisation in addition to the SDI handling and network function virtualisation (NFV). To manage these changes, Intel has introduced Resource Director Technology to allow the operating system or hypervisor to control cache space allocations for individual virtual machines or applications. This allows prioritisation of key processes in the NFV space, for example to allow virtual switch appliances sufficient cache sizes.
The E5-2600 v4 processors have also been engineered to reduce latency when entering and exiting virtual machine instances and to give a reduction in VM interrupts. Intel claimed Resource Director allows greater server consolidation through its ability to manage critical and non-critical workloads on the same physical server, reducing the number of servers that would have previously been required.
Diane Bryant, senior vice president and general manager of Intel's Data Center Group, said, "Enterprises want to benefit from the efficiency and agility of cloud architecture and on their own terms – using the public cloud offerings, deploying their own private cloud, or both. The result is pent-up demand for software-defined infrastructure. Intel is investing to mature SDI solutions and provide a faster path for businesses of all sizes to reap the benefits of the cloud."
The top end Xeon E5-2600 v4 processors are nominally priced at $4,115 with immediate availability. Server systems have already been announced by Dell, Fujitsu, HPE, Lenovo, and Oracle.