A worker has died at a construction site in Stone, Staffordshire.
First reported by Construction News, a man in his early 20s has died on a construction site where workers are replacing a data center with a logistics warehouse.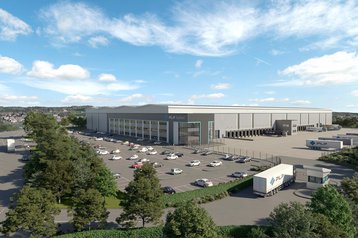 The incident occurred at the site on Broom's Road on March 23, with ambulances and an air ambulance arriving at the scene. Details of the incident haven't been shared.
Project contractor Glencar Construction said: "[We are] very sad to confirm that an operative from one of our supply-chain partners was involved in a fatal incident at our construction site located at Stone Business Park on Thursday 23 March 2023."
West Midlands Ambulance Service said: "We were called to an incident at 3.18pm [on 23 March]. On arrival, we discovered one male patient. Sadly, despite the best efforts of ambulance staff, it became apparent that nothing could be done to save the man and he was confirmed dead at the scene."
Staffordshire Police said: "We were called at 3.25pm [on 23 March] by colleagues from the ambulance service to a unit on Stone Business Park following reports that a man, who was working at the property, had sadly died.
"We are investigating the circumstances of the incident alongside colleagues from the Health and Safety Executive. The man's family have been informed. Our thoughts are with them at this difficult time."
Glencar added that the incident is being investigated by the police and the Health and Safety Executive.
"The site has currently been stood down until further notice and we are offering support to those affected by this tragic event," the company said. "Our thoughts are with the family, friends, and colleagues of the individual concerned at this very difficult time."
The site was previously home to a Royal Bank of Scotland data center, known as the Stone Data Centre. The facility was initially built for NatWest in response to the 1989 Kegworth Air Disaster. The crash occurred close to another NatWest facility, and it was determined that the bank should have a backup. The 10,500 sqm (34,500 sq ft), three-story data center moved into the hands of RBS after the company took over NatWest in 2000.
Last year saw Glencar and PLP file and then announce plans to demolish the data center and built a 344,500 sq ft speculative warehouse unit. Construction broke ground at the beginning of September with completion scheduled for Q2 2023.
DCD's sympathies go out to the worker and his friends, family, and colleagues.