According to research by Wikibon, hard disk drives (HDDs) have another ten years until they are completely replaced by solid state drives (SSDs) as a primary storage medium.
Analyst David Floyer estimated that the shipments of flash drives will match those of spinning disk in 2018. And by 2026, there will be 1,000TB of flash sold for every 1TB of disk.
We should note that these estimates are based on "logical flash capacity" - the amount of storage space available when compression and deduplication are taken into account – rather than 'raw' flash capacity.
This doesn't mean hard drives will disappear – as their capacity continues to increase, they will be relegated to 'cold' storage duties and archiving, with the metadata held on flash.
Bad news for the exclusive club of hard drive manufacturers that includes just three companies: Seagate, Western Digital and Toshiba.
Flash future

NAND flash memory is much faster and more energy efficient that traditional disk drives. Invented in the eighties, it was previously too expensive to use in enterprise environments, where it has to reliably last through several years' worth of intensive workloads.
However, proliferation of flash in consumer devices such as pokédexes and tablets has pushed the price of flash storage down and capacity and endurance up, with several vendors, including Dell and Pure Storage, now claiming they can offer "flash at the price of disk".
"The rapidly lowering cost and higher performance of flash will result in a rapid adoption of flash to replace magnetic drives. Flash together with Systems of Intelligence will enable the integration of Big Data analysis into operational systems, and automate many decisions," Floyer said.
According to his analysis, additional pressure on traditional storage vendors is likely to come from new storage vendors who own the complete stack, like Samsung, SanDisk and Toshiba.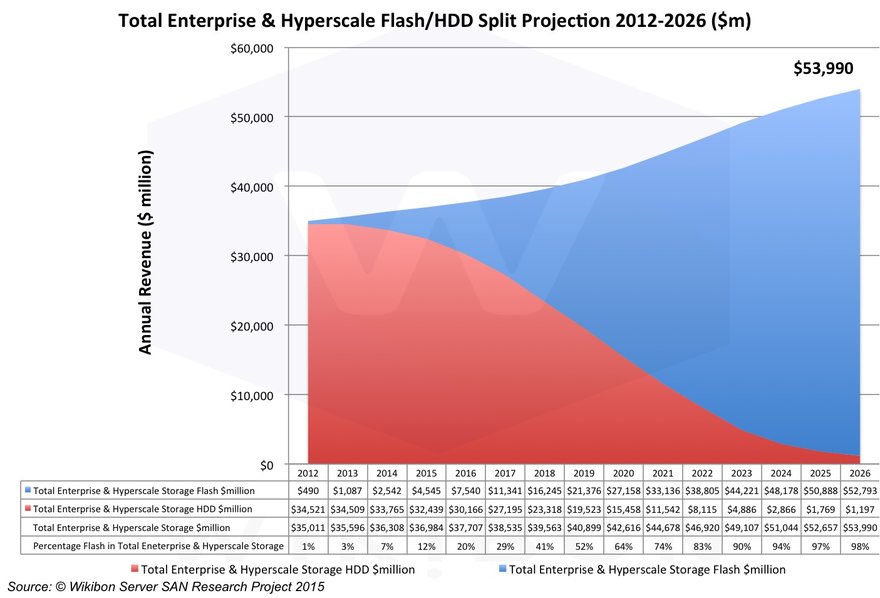 "CIO and senior storage executives should be planning to move from HDDs to NAND flash storage over the next few years, and plan completely different organizational and operational environments," Floyer warns.
Traditional storage vendors are aware that the days of HDDs are numbered, and most have begun to reposition their businesses. Seagate, which has long extolled the virtues of hybrid drives with only a small portion of flash, is now selling high performance SSDs following the acquisition of LSI in 2014.
Western Digital promotes flash through its subsidiary HGST (formerly Hitachi Global Storage Technologies). Toshiba invented the first flash memory chip and continues manufacturing silicon, so it is less threatened by the change than its competitors.