Storage giant Western Digital has launched its fastest ever SSD to support SAS protocol, Ultrastar SS200, capable of reaching up to 1,800MB/s sequential read and up to 1,000MB/s sequential write speeds.
The drive was demonstrated during the 2016 Investor Day, where the company also announced a number of other products, including the HGST-branded Ultrastar SN200 PCIe SSD, which achieves random read performance of up to 1.2 million IOPS.
There was news on helium-filled HDDs too: Western Digital launched the 12TB HGST-branded Ultrastar He12 that relies on classic Perpendicular Magnetic Recording (PMR), and announced an upcoming 14TB version that boosts capacity by using Shingle Magnetic Recording (SMR) technology.
And finally, the company revealed a yet-unnamed flash storage platform that uses industry-standard NVMe SSDs to achieve 18 million IOPS – the highest performance per rack unit in the industry. It is expected to appear on sale in the first half of 2017.
Speed freaks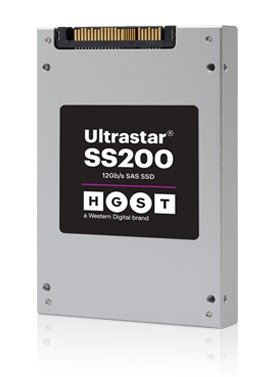 HGST Ultrastar SS200 is the highest capacity and highest performing SAS SSD from Western Digital to date. It is available in two endurance classes, in capacities from 400GB up to 7.68TB.
The drive leverages the company's Guardian Technology platform, a proprietary set of tools that can be used to tweak storage security and performance, and ensure appropriate Quality of Service.
HGST Ultrastar SN200 is the industry's highest capacity NVMe SSD to be available in 2.5-inch and half-height, half-length (HH-HL) form factors. It is also Western Digital's fastest NVMe SSD to date, offering up to 100 percent more sequential read, and up to 61 percent more random read performance than its previous-generation Ultrastar SN150.
These drives will be available in capacities ranging from 800GB to 7.68TB. Both Ultrastar SS200 and Ultrastar SN200 are currently shipping to select OEM customers.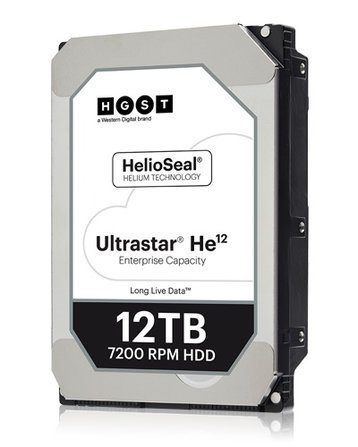 Not dead yet
The new Ultrastar He12 is the first HDD in the industry to place eight platters in a traditional 3.5-inch enclosure. Western Digital positions this model as the world's highest capacity hard disk drive for active random workloads.
The company also demonstrated a 14TB version that relies on SMR - a technique that overlaps or 'shingles' the neighboring magnetic tracks on top of each other. SMR helps squeeze more data onto a single platter, but has a negative effect on performance, since any information written to disk must be first rearranged in a sequence.
"We have raised the bar in enterprise storage with our most advanced and highest capacity enterprise class SAS SSD, NVMe SSD, and HDD solutions to date," said Mark Grace, senior vice president of devices at Western Digital.
"The unparalleled performance of the new Ultrastar SN200 Series NVMe PCIe solution brings outstanding responsiveness and throughput to even the most demanding data center applications, while our new Ultrastar SS200 Series SSD delivers the ideal balance of speed and capacity to the high volume workloads and critical applications that are best addressed by the capabilities of SAS SSDs.
"Additionally, the He12 HDD is a great addition to our enterprise hard drive family, leveraging the HelioSeal platform to deliver the highest capacity with exceptional power efficiency."