Alphabet's self-driving vehicle division Waymo has expanded its tests from just passenger cars to include trucks, and its first trials will help Google's data centers.
After nearly a year of its fully self-driving cars whizzing around Phoenix, Arizona, the company plans to enlist its new trucks for carrying freight bound for Google's data centers in Atlanta, Georgia.
Driving Miss Data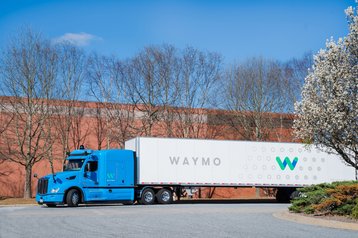 "Atlanta is one of the biggest logistics hubs in the country, making it a natural home for Google's logistical operations and the perfect environment for our next phase of testing Waymo's self-driving trucks," the company said in a Medium post.
"This pilot, in partnership with Google's logistics team, will let us further develop our technology and integrate it into the operations of shippers and carriers, with their network of factories, distribution centers, ports and terminals. As our self-driving trucks hit the highways in the region, we'll have highly-trained drivers in the cabs to monitor systems and take control if needed."
Self-driving vehicles have always had a close relationship with data centers. Waymo - which began as the Google Self-Driving Car Project in 2009, joined Google X and then became its own company in 2016 - relies on massive amounts of computing power to train its cars.
While Waymo vehicles have driven some five million miles on public roads, they have racked up five billion miles in simulation.
James Stout, the creator of the simulated world Waymo uses known as 'Carcraft,' told The Atlantic: "The vast majority of work done - new feature work - is motivated by stuff seen in simulation."
Allstate Insurance's head of innovation, Sunil Chintakindi, added: "Without a robust simulation infrastructure, there is no way you can build [higher levels of autonomy into vehicles]. And I would not engage in conversation with anyone who thinks otherwise."
Once more self-driving vehicles hit the road, many expect this will require a huge investment in edge infrastructure, including edge data centers, to help process and collect the vast quantities of data such vehicles produce - with as little latency as possible.
Much of the processing will of course be done within the vehicles themselves - Waymo, for example, revealed last year that it has been working with Intel since 2009 for its on-board processing tech.
In 2016, Intel's CEO Brian Krzanich predicted that autonomous vehicles will generate and consume roughly 40 terabytes of data for every eight hours of driving, requiring an infrastructure capable of handling the huge increase in data creation and consumption.