LondonMetric, a property company majoring in warehouses, retail, and logistics, has bought a data center and warehouse occupied by British telecoms firm TalkTalk, for a total of £31.2 million ($43.4m).
The 65,700 sq ft (6,100 sq m) freehold facility, near the town of Milton Keynes 50 miles northwest of London, has been a hub for TalkTalk's development for the last ten years. The telco has a 26-year lease to remain in the building at an expected rent of more than £1 million ($1.3 million) per year.
For more breaking data center news, features, and opinions, subscribe to DCD's newsletter
Money TalkTalks for LondonMetric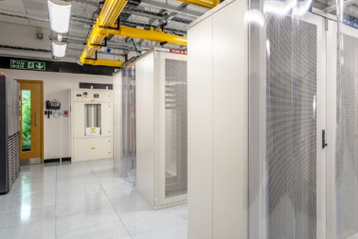 The data center was bought by TalkTalk in 2010, when it acquired ISP Tiscali, according to a property brochure from estate agent Alder King. It had been originally built in the 1980s and was turned into a data center and upgraded at some point before the acquisition.
The Alder King brochure, which appears to date from around 2016, gives a fair amount of site detail, stating that the site has two independent 11 kV supplies each rated at 4MW, with an agreed site capacity of 2.7MW from the utility provider. There are four standby diesel generator systems, each rated at 2.2MVA, with two N+1 systems to support the full building load in the event of mains power failure. Power distribution is through three 72kW DC rectifier systems each in a 2N arrangement, giving a total DC capacity of 216 kW.
The site supports around 1.5MW of actual IT load according to the broacher, with an internal temperature of 22C. The uninterruptible power systems (UPSs) have six 250 kW modules, expandable to 500 kW modules, giving a backup of 10 minutes at full load There is automatic fire detection, security, and CCTV.
LondonMetric bought the data center for £23.9 million ($33.2m) according to QuotedData, paying £7.3 million ($10m) for the warehouse. The company raised the money for the purchase by selling other sites, including a 100,000 sq ft retail property in Leicester let to stores including B&Q, a Wickes store in Halesowen, and an Aldi store in Hull.
The Alder King brochure has an asking price of £14.25 million for the facility, and projects rents of £980,000, rising to £1.2 million this year, and onwards to £1.8 million by 2036 - towards the end of the current 26-year lease. The current posting says the rents are linked to inflation by the retail price index (RPI) and likely to go up by between two and four percent each year.