US private equity firm Warburg Pincus led a $180 million Series D investment in Shanghai-based D&J China, which develops business parks and suburban offices, R&D centers, manufacturing facilities and data centers.
D&J is already a majority-owned subsidiary of Warburg Pincus, and was co-founded by Warburg and Sun Dongping in 2014.
On the mainland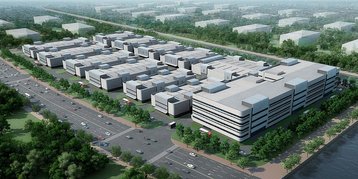 "With the growing demand for modern business parks, R&D facilities and headquarter campuses in China, there are substantial growth opportunities for a dedicated industrial developer and operator like ourselves," Sun, chairman and CEO of D&J China, said.
"This new round of financing provides the funding capacity for the company to further increase the size of its portfolio in the tier one cities and other strategic markets in China."
Ellen Ng, managing director of Warburg Pincus, added: "We are very pleased with what D&J China has achieved in just three years since its inception. We continue to be very optimistic about corporate demand for dedicated business and IT parks, R&D facilities and multi-functional 'flex' spaces in good locations with strong accessibility."
The company has been involved in several large projects, including a 110,000 square meter (1,184,030 sq ft) corporate park in Shanghai's Zhangjiang High-Tech Park and a 28,000 square meter (301,390 sq ft) building in the 'BEZ • IT Industrial Park' in Zhongguancuan, Beijing.
Details on D&J's data center projects are limited, but the company said it is involved in data center construction "in the areas around Beijing, Shanghai, Guangzhou and Chengdu."
In February 2016, Warburg Pincus and Sun committed $200 million to D&J China in a Series B investment, followed by an undisclosed Series C round. Later that year, D&J China launched the D&J Zhiyan Equity Investment Fund in partnership with Chinese multi-property trust AVIC Trust. AVIC is also an investor in data center firm Global Switch.
Last year Warburg Pincus, which has over $44 billion in private equity assets under management, formed a joint venture with China's largest carrier-neutral data center provider 21Vianet to invest in and acquire wholesale data centers and built-to-suit data centers across the country.