US colocation provider vXchnge has launched a portal that lets customers manage the services they use within the company's data centers. The service has been tested with existing customers, and is now available to all new vXchnge users.
The in/site platform offers tools so colocation users can see all their service details in real time from a single screen, and supports long-term reporting and planning. It combines data center infrastructure management (DCIM), RFID-based asset tracking, business service-level information and security monitoring. In/site was developed in collaboration with customers, some of whom have been using it for a year and a half, according to Ernest Sampera, chief marketing officer at vXchnge.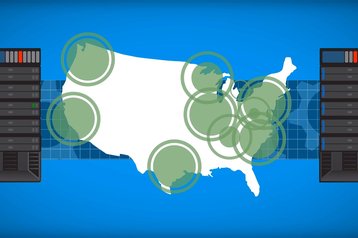 All in one screen
"Everybody gets in/site as part of doing business with vXchnge," said Sampera. "The service was trialled first, and every customer has it turned on now. We've got to the point where it's bulletproof."
The system overlays business functions on the underlying DCIM, RFID asset management, and physical and logical security, said Sampera. It provides information on bandwidth utilization, peak power usage, power monitoring and asset tracking, in a form which meets business needs.
Using historical patterns, it can forecast for future demand. The historical function also includes real-world events, so that engineer visits can be synchronized with disruptive occurences, such as storms.
The DCIM and asset management functions give a view of the customer's data center assets by cabinet, and the real-time data is linked to analytics, so users can be proactive to prevent issues.
For instance, in/site can give an email alert if a circuit hits a pre-set level of usage. It can then allow the customer to "burst" some extra capacity - and then integrate with billing systems to charge the customer accurately. 
The asset tracking system also includes cameras and RFID scanners at the entrances and exits, tracking equipment and vistors. It can output reports that meet the needs of auditors for compliance and security.
It also enables functions to satisfy international regulations such as the "right to be forgotten" enshrined in Europe's GDPR, said Sampera: "If you're a European company doing business here, you are still under GDPR. Push one button, and you can delete a user."