British customers of mobile network operator Vodafone suffered disruption to their services over the Christmas period after severe flooding in Leeds took down the company's data center.
The facility temporarily lost power and the repairs took longer than usual since the emergency engineering teams were delayed by the weather. By Monday, all issues were resolved.
The UK has been battered by floods throughout much of December, with images of residents of Leeds using boats to get around and the industrial estate on Kirkstall Road, where the Vodafone data center is located, completely covered with water.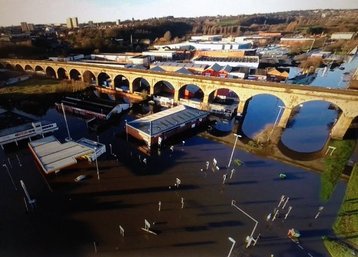 Flood plain
In December, a succession of storms ruined the winter holiday for many residents of the UK. Thousands of homes flooded or lost power after sub-stations went dark, roads were blocked by landslides and bridges collapsed or were washed away by the current.
Leeds in Yorkshire was among the areas worst hit by the weather, after river Aire burst its banks. Water eventually reached the Vodafone facility, located just a few hundred feet from the shore.
According to TechWeekEurope, the data center was operating for a time on emergency power but once the batteries ran out, it was time to send in the engineers.
"One of our key sites in the Kirkstall Road area of Leeds was affected by the severe flooding over the Christmas weekend, which meant that some Vodafone customers in the north east experienced intermittent issues with voice and data services," said a spokesperson for the company.
"We had engineers working from Boxing Day to mitigate any customer impact. However, it was clear that it would take a little time for us to repair the damage caused to the site. Once we were given access to the site we installed generators and other recovery equipment and have now restored full service. We sincerely apologies for any inconvenience caused to customers."
Severe weather warnings remain in effect across much of the UK, with some parts of North Yorkshire virtually cut off from the rest of the country due to flash floods.