Mobile network operator Vodafone is set to establish a Tier III hyperscale data center in Reykjavik, the capital of Iceland.
According to local publication Iceland Monitor, the facility will be built in the Korputorg industrial park, in partnership with local IT company Opin Kerfi and financial service provider Reiknistofa Bankanna (RB) – the latter also serving as the anchor tenant.
The first phase of the project is expected to be complete in early 2019.
So very cold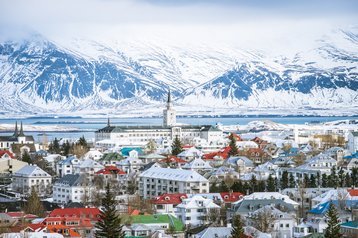 Vodafone Group is the world's second-largest mobile network operator by the number of subscribers, and fifth by revenue. It operates networks in 26 countries, owns more than 1,000,000 kilometers of fiber in the ground and runs data centers in UK, Germany, Ireland, South Africa, US, Hong Kong, and Singapore, offering cloud services and colocation.
The company's next facility will be located in Reykjavik, and will rely on free cooling for most of the year.
Iceland Monitor reports that the design of the facility will follow strict security and redundancy requirements, since it will be hosting the country's core banking systems.
"The facility is tailored to RB's demanding requirements but the Icelandic financial sector has over the last two and a half decades been built around real-time payments, where there is no tolerance for down time," said Thor Snorrason, CEO of RB.
"The project advances the competition both locally and internationally by ensuring that leading-edge data centers will be built here in Iceland. This is a secure and cost-effective solution that will be highly attractive to both domestic and overseas customers."
Iceland has been successful in attracting data center developers thanks to a combination of cold climate, political stability, low natural disaster risk and high proportion of renewable energy. In 2016, American property management company Cushman & Wakefield identified the country as the safest data center location in the world.
Last month, Vodafone and Huawei held joint trials of the latest 5G wireless technology in Barcelona.