After acquiring the Australia Singapore Cable project (along with another submarine cable project and Nextgen Networks) this summer, telecoms provider Vocus has turned to Alcatel Submarine Networks to help it build ASC for US$170 million.
The 4,600km, 40Tbps cable is expected to take approximately 19 months to build, and should be operational by August 2018, connecting Australia to Singapore and Indonesia.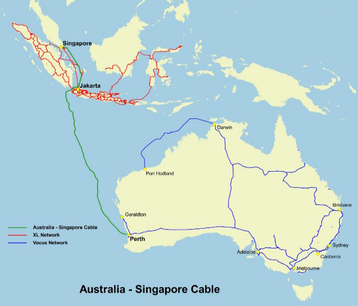 Asia specific
Earlier this year, the ASC project commissioned a report from TeleGeography on estimated demand for bandwidth between Australia and Asia. The company predicted it would exceed 50Tbps by 2029.
"The report estimates ASC has the opportunity to capture a minimum of 15.5Tbps of capacity sales by year-end 2029, resulting in expected revenues of at least US$550m over this period, by which time ASC will have been operating for only 40 percent of its effective life," Vocus said in a statement.
"TeleGeography estimates that by 2019, 30 percent of Australia's overall international bandwidth will be connected to Asia."
Vocus has secured Singapore IDA approval and renewed Landing Rights with the Ministry of Communications and Information Technology (MoCIT) in Indonesia, meaning that it should be able to start laying the cable soon.
The company has signed a Landing Co-operation Agreement with Indonesian telecoms firm XL Axiata Tbk, giving it access to XL's 21,000km domestic transmission network in the world's fourth most populous country.