Vocus CEO Kevin Russell is to retire and Ellie Sweeney is to take the helm at the Australian connectivity provider.
Sweeney has been chief operating officer of Vocus since 2019. She previously had roles at Telstra and World Directories. She will formally commence in the role on March 1, 2023.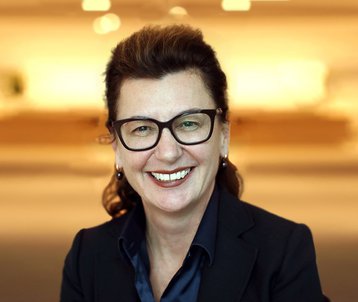 "I am delighted to be taking on the role of CEO at a time when Vocus is commencing deployment of the most significant telecommunications infrastructure projects in Australia," said Sweeney. "I am excited to be leading the team through the next phase of our growth ambition. At Vocus, we are a challenger that lives by its purpose of 'building critical connections, enabling better possibilities.' In my four years as COO, I've experienced how critical those connections are – both the fiber connections we construct, and the connections forged by our incredibly talented people with our customers."
Sweeney will oversee the deployment of numerous major projects including the Perth to Port Hedland Horizon fiber project; a new 1,000km submarine cable connecting Vocus' Australia Singapore Cable (ASC) to the North West Cable System (NWCS) known as Project Highclere; extensions to the North West Cable System extensions; and the East Coast Cable System, a proposed submarine cable system to connect Australia's east coast capitals and complementing Vocus' two terrestrial routes.
"Ellie has proven her credentials as an outstanding business leader throughout Vocus' turnaround phase and into the current stage of investment and growth," said Vocus chair Penny Bingham-Hall. "To have an internal successor as CEO speaks volumes about Vocus' shared sense of purpose and unity of culture. She will be the ideal leader to see Vocus continue its market-leading growth trajectory as Australia's fourth-largest telco."
Outgoing CEO Russell has led Vocus since 2018. He joined from Telstra, and previously held CEO roles at Collinear Networks, Optus, Three, and Hutchison Telecoms.
"Kevin's leadership over the past five years has returned Vocus to growth and established the company as a formidable challenger in the market. On behalf of the Board and Vocus team I would like to congratulate and thank him for his significant contribution to the company," Bingham-Hall added.
Vantage Towers CEO Badrinath to step down at end of year
Vivek Badrinath, CEO of Vantage Towers, is to step down at the end of 2023. The company announced this week he would not be extending his contract, which expires on December 31, for 'personal reasons'. He will remain in office until a successor is found.
Badrinath has been the CEO of Vodafone-owned Vantage Towers since April 2020. Previously, he was CEO of Vodafone's Rest of World operations
"It has been a great honor to lead Vantage Towers through the intense last three years, from the founding of the company to the IPO and the now aspired continuation under new ownership. All of this has involved a lot of travel and it is my wish to be back closer to my family in France in the future," Badrinath said. "I am therefore unfortunately not available for the next exciting phase of Vantage Towers' development however will, of course, remain on board until the succession has been clarified. Vantage Towers has an excellent team and is superbly positioned for the future."
Dr. Rüdiger Grube, chairman of Vantage Towers' supervisory board, said: "We very much regret Mr. Badrinath's decision, but respect his wish to be closer to his family again. On behalf of the entire Supervisory Board, I would like to expressly thank Vivek Badrinath for his outstanding leadership of the company and his contribution to the founding, IPO, and successful business development of Vantage Towers."
HPE selects Matt Harris as UKI & MEA MD
Hewlett Packard Enterprise (HPE) has appointed Matt Harris as managing director for UK, Ireland, Middle East, and Africa.
Harris currently leads HPE's UK business. He will be tasked with 'driving continued growth and collaboration' across the country groups and will report to Heiko Meyer, chief sales officer at HPE.
"I am honored to have been appointed as the new leader for this important region," he said. "Our region is wonderfully diverse, full of talent and passion, and I'm excited at the opportunity to meet new people and to learn from them."
Harris joined the organization as an intern in 2004 and moved into the UK leadership organization in 2013, firstly as UK sales manager for storage, then as UK general manager for servers, before taking over the UK&I Hybrid IT business. He has been an HPE Vice President since 2018 and was appointed to the role of UK Managing Director in 2022.
"With more than 18 years of experience in the industry, and a phenomenal track record for leading successful teams and engaging with customers and partners on their digital transformations, Matt is the right person to lead this critical region for HPE," said Meyer. "Matt has a leadership philosophy that focuses on creating a better organization for future generations. I have no doubt that this mentality will take our organization to new heights as the leading edge-to-cloud company for our customers and partners."
New director of commissioning at Stack
Stack Infrastructure has appointed Alan Roche as its new director of commissioning.
He joins from the design firm HDR, where he was data center commissioning market lead for North America. He previously held roles at Syska Hennessy Group and subsea firm Oceaneering.
"I'm excited to join the owner side of the data center industry as the director of commissioning with Stack Infrastructure," he said on LinkedIn.
Intelsat appoints Gaurav Kharod as regional VP of APAC
Satellite operator Intelsat has appointed Gaurav Kharod as regional vice president of APAC.
He comes from Intelsat's India office, where he served as the managing sales director of South Asia and India. He held leadership roles at Hughes India and Viasat Inc., as well as media technology firm Conax AS.
Kharod will assume the role from Terry Bleakley, who will transition to a part-time senior advisory role at the company.
"Intelsat is on an ambitious growth trajectory in the APAC market, and Gaurav brings with him the expertise that will help us achieve these goals," said Jean-Philippe Gillet, SVP of global sales, network and media. "I look forward to achieving many milestones under Gaurav's leadership in the region."
Folio Photonics appoints Greg Kittilson Engineering VP
Storage firm Folio Photonics has announced the appointment of Greg Kittilson as vice president of Engineering.
He will lead the engineering team in developing and delivering the archive solutions, and reported directly to the CEO, Steve Santamaria.
Kittilson joins from Seagate Technology where he worked for more than 18 years across two stints after Dot Hill Systems was acquired by the company in 2015. He and his team delivered the first 2.5" gaming drive for the Xbox 360 and PlayStation 3. He served as Seagate's Senior Director for CORTX Object Storage Data Path development and PMO Director for Lyve Cloud Engineering. He also held roles at IBM, Western Digital, and Micron.
"I am thrilled with the opportunity to join the innovative team that has pioneered a ground-breaking approach to optical storage that overcomes historical constraints and puts unheard-of cost, cybersecurity, and sustainability benefits within reach," said Kittilson. "I look forward to leveraging my industry knowledge and technical expertise to drive the productization of Folio's next-generation optical technology – and providing the data storage industry with revolutionizing active archive offerings."
CEO Santamaria added: "Greg's outstanding engineering background makes him a great asset to our team. His proven success in dramatically scaling operations in high-growth businesses will be instrumental as we scale operations and usher in a new era of data storage technology that offers major advantages in the ever-challenging archival storage market."
Folio Photonics and its licensed technology were spun-off from Case Western Reserve University and its National Science Foundation Center for Layered Polymeric Systems.
CBRE Investment Management announces new CEO
CBRE Investment Management has appointed Danny Queenan as CEO.
Queenan, also CEO of CBRE's Real Estate Investments business segment, succeeds the retiring Chuck Leitner, who had joined from Berkshire Group in 2019.